02/06/2017
Winning Down Under: Successful Australian Debut for AERO™ Advanced Paint Technology
Pro-am victory and 2nd overall in yet another Bathurst thriller 
Bathurst, Australia (6  February  2017) - Making its first Australian outing at the Liqui-Moly Bathurst 12 Hour this weekend, AERO Advanced Paint Technology shone through the long day on the mountain as Porsche drivers Marc Lieb and Patrick Long, American-based Australian David Calvert-Jones, and young Porsche Cup Australia champ Matt Campbell combined for a winning run in the Pro-Am class. 
The effort, managed with the support of American squad Competition Motorsports and with the help of McElrea Racing, came home an impressive 2nd overall in the 52 car field. 
The race, which featured an all-time high number of safety car periods, was a rough and tumble affair right from the drop of the pre-dawn green flag. The No. 12 Competition Motorsports Ice Break, Virgin Australia backed Porsche 911 GT3 R was not exempt, as the AERO Advanced Paint Technology held up beautifully despite four different instances of on-track contact that were each significant enough to warrant a penalty. 
"We came here with two objectives—one was to do as well as we could and the second, which was a close second, was to have fun," said Patrick Long. "CJ (David Calvert-Jones) has been a great friend, we are both based in Los Angeles and this has been something Marc and I have been talking about for quite a few months to get back over here and try and go for an overall. It was an adventurous day – you have to race hard and you have to fight because you know there are going to be yellows and track position means a lot. At the end there might have been an incident or two I could have taken back and done a little different, but I have no regrets. Looking forward, we had a strong GT3 – R and it held up."
The race marked the culmination of a lot of effort from Calvert-Jones, who was a driving force in assembling the program. 
"I am feeling pretty good right now!" said Calvert-Jones in the post-race euphoria. "It has been a great adventure. This is our fourth time here and thanks have to go to Patrick (Long) for being my mentor and helping me put these programs together, along with Ice Break and Virgin who have stepped up to get us here. It has been amazing. Thanks goes to all those guys and all the organizers, and especially McElrea Racing for all they did for us."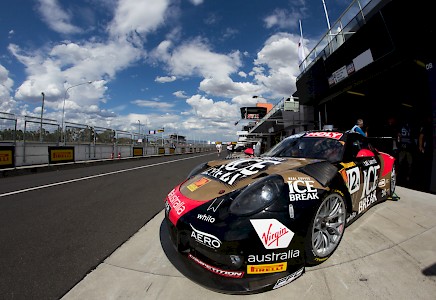 Beyond the on-track achievements, the first showing of the AERO product in the new market generated a lot of attention through the race weekend as more paddock regulars see for themselves the advantages that AERO provides. 
"AERO Advanced Paint Technology was incredibly well received at the Bathurst 12 Hour," said Brett Rogers, the Australian retailer for AERO Paint. "The leadup to the event created a lot of interest in checking out the Ice Break Virgin Australia Porsche, so we were regularly welcoming potential clients to the garage to view the application and its seamless embed process.  For Competition Motorsport to get this result on debut for the product in Australia is a massive positive and I think gives us a wonderful platform to forge ahead in the future."
Photos courtesy of Porsch Australia.