08/17/2015
IERUS Technologies, Inc. feature antenna embedded in AERO™ Advanced Paint Technology at the 2015 Space & Missile Defense Symposium
HUNTSVILLE, Alabama (August 15, 2015) – Over the last year, AERO™ Advanced Paint Technology and development partner IERUS Technologies have been busy optimizing and deploying the advanced embedded antenna technology that is set to revolutionize radio communications.
Huntsville, AL-based IERUS Technologies have established themselves as a leading designer of technologies in the electromagnetic spectrum across multiple sectors. They have a proven record formulating solutions for ballistic missiles, seekers, stealth technologies, space systems, and communications. When professionals from AERO™ Advanced Paint Technology and IERUS Technologies conceived of an antenna system integrated in the ultra-durable, lightweight paint applique, a new standard for radio communications was established.
In motorsports, communications systems, (voice, telemetry data, GPS, track conditions, etc.) all require a discrete antenna, which subsequently adds both weight and aerodynamic drag. By embedding antennas in the paint, traditional monopole and blade antennas are, effectively, eliminated from the slipstream. As such, the vehicle becomes more efficient, helping with lap times, fuel savings, and weight reduction. Furthermore, the highly engineered antenna provides better clarity over a greater area, thereby improving communications over a topographically complex region, such as race tracks.
Recently, IERUS Technologies exhibited the low-profile antenna solution at the 18th Annual Space & Missile Defense (SMD) Symposium at the Von Braun Center in Huntsville, AL. The SMD Symposium is the premier conference and exhibition for technologies in aerospace and missile defense applications, which provides a forum for industry professionals, stakeholders, and development partners. IERUS Technologies attended the symposium to showcase current and future capabilities in both missile defense and civilian markets. The inclusion of an AERO-painted Formula 3 car illustrated their vision to pursue dual use and crossover technologies in industries such as motorsports.
Jason Keen, president and CEO of IERUS Technologies, stated "Showing the AERO-painted F3 car next to the embedded re-entry vehicle antennas demonstrate that the technologies developed are truly platform agnostic, and can be deployed for any number of applications." He echoed the remarks in the video (after the link in photo above): "motorsports and aerospace are both hotbeds for technology innovation, and we sought to validate the integrated antenna capability in a high performance environment to showcase just how truly valuable the technology is."
Jim McGuire, CEO of AERO™ Advanced Paint Technology parent company, entrotech, stated that "the technology is going to take communications into the future for us in motorsports, but also in defense, aerospace, and beyond." He continued "an easy-to-install, low profile antenna integrated into a lightweight, durable paint is revolutionary!"
The two companies have validated the antenna system in both open wheel and sports car racing applications. The performance of the antenna gave drivers a noticeable boost in clarity, but also completely eliminated "dead spots" at circuits such as Sonoma Raceway and Mazda Raceway Laguna Seca, both of which have terrain that can be troublesome for UHF communications.
The two companies are continuing the process of commercializing the technology within multiple industries and sectors. The low profile antenna system can be configured for voice or multi-modal communications across multiple bandwidths.
More about the 2015 SMD Symposium can be found here and here.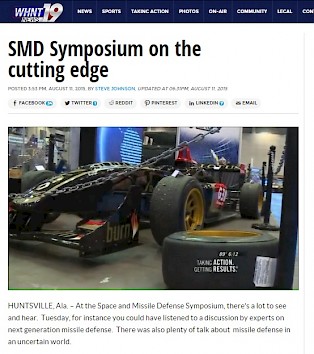 About IERUS Technologies, Inc.
IERUS Technologies Inc. is a HUBZone certified company with an AS9100 certified quality management system based in Huntsville, AL. IERUS provides engineering, program management, and analysis support in the defense and commercial sectors. IERUS specializes in radio frequency spectrum design and analysis, global optimization based design, hardware/software acceleration techniques, missile analysis, directed energy, and optics. For more information visit www.IERUStech.com
About AERO™ Advanced Paint Technology™
AERO Advanced Paint Technology™ is a division of entrotech, inc. that designs, manufactures, and sells a series of patented, film-based paint appliques to the aerospace, automotive, and commercial trucking industries. Established in 1999, entrotech is a chemical technology business that designs, develops and commercializes innovative materials used in many of the world's most advanced products. The company's focus is on life sciences, data storage, display enhancement and protection, green paint applique films, and premium carbon fiber products.  With executive offices and laboratories in San Francisco, the company has manufacturing and development facilities in Columbus, Ohio. For more information, visit: www.entrotech.com