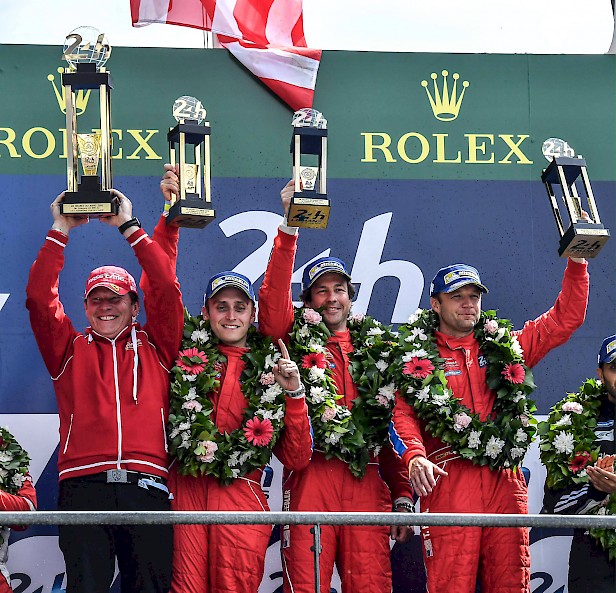 02/07/2017
Scuderia Corsa to Defend 24 Hours of Le Mans Victory with Two-Car Entry
Scuderia Corsa release. 
All-American Lineup of Bill Sweedler, Townsend Bell to Defend with New Teammate Cooper MacNeil
Defending IMSA GTD Champions Christina Nielsen and Alessandro Balzan Joined by Bret Curtis        
LOS ANGELES (February 7, 2017)- Following their dominant victory during last year's 24 Hours of Le Mans in the GTE-Am class, Scuderia Corsa will return to the notorious Circuit de la Sarthe in 2017, defending their title in the GTE-Am Class with two entries this time, driven by an all-star lineup in the all-new Ferrari 488 GTE.
Doubling their efforts from a historical 2016 campaign in which their Le Mans win would highlight a season that also saw victories at The 12 Hours of Sebring, Six Hours of Watkins Glen, as well as three separate championships, the team's high threshold for quality remains unchallenged with their two-car lineup.
In the No. 62 Ferrari 488 GTE, Bill Sweedler and Townsend Bell will return to defend their 2016 victory with the addition the venerable Cooper MacNeil. Meanwhile the team's No. 65 Ferrari 488 GTE proves an instant contender, featuring the full-season, championship-winning pairing of Christina Nielsen and Alessandro Balzan, joined by sportscar veteran Bret Curtis.
For team owner Giacomo Mattioli, the invitation to return to the world's most renowned event is a welcome one.
"The opportunity to bring two Ferraris in defense of our Le Mans victory is a great honor," stated Mattioli. "To debut in 2015 with a podium, and win last year was an absolute dream-come-true. To return now with the Ferrari 488 GTE is a brand new challenge that we are all excited for. It's of course great to see Bill and Townsend back with us for another year, and now with Cooper MacNeil joining us, we should be very strong. It goes without saying we had an incredible 2016 together with Christina and Alessandro, and Bret Curtis is a long-time member of the community that we're very excited to work with. We're definitely confident for another Ferrari victory!"
For Bill Sweedler, a chance to return to the same team that brought him such an incredible victory just one year before is one that couldn't be ignored.
"I'm so excited to return to the 24 Hours of Le Mans and defend our race win along with Scuderia Corsa and Ferrari," stated Sweedler. "Le Mans is such a unique and special place that has the most passionate residents. The city literally shuts down for a week to welcome racers, teams, and fans from around the world into their city. I'm truly honored to be able to participate again after two successful years. My hope is that Townsend, and our newest teammate, Cooper MacNeil, can take our collective experience and deliver another strong finish for Scuderia Corsa and Ferrari in 2017!"
For Christina Nielsen, returning to Le Mans with the same team she scored a historic IMSA championship with creates her best chance to win.
"It will be great to return to Le Mans with Scuderia Corsa," stated Nielsen. "This event is unlike any other, and one that any driver wants to win. Luckily this is the best organization I could be with, and our last year together has been incredible. The professionalism, quality of work, and talent on all levels is unmatched, and now that I've already experienced the event, I want to go to win."
Having raced with Scuderia Corsa prior in the Ferrari Challenge series, Cooper MacNeil is looking to add a Le Mans victory to his current trophy case.
"I think we are headed to Le Mans with a very strong package," MacNeil said. "Bill and Townsend won there last year in a Ferrari. We will be running a brand new 488 GTE and the Scuderia Corsa team knows the car and knows us as well. I run with them in the Ferrari Challenge Series, so between us three drivers and the team we already have a great racing relationship. This will help us to get right down to getting the car set-up and ready to go for race day."
Finally, for Bret Curtis, hopes are high that his third visit to the famed event could be his best yet.
"I am very excited to join Giacomo Mattioli's Scuderia Corsa in the most famous sports car race in the world, the 24 Hours of Le Mans," stated Curtis. "In 2016 Scuderia Corsa jumped to the top of the sports-car world with a GTD title in IMSA, and a GTE win at Le Mans so I am very excited to be racing with the best, and in a Ferrari. Additionally, having the opportunity to be driving with last year's winning GTD duo of Christina and Alessandro is a great opportunity to shine at a great race. I look forward to being a part of a winning effort and having strong result!"
The 24 Hours of Le Mans will take place on Saturday, June 17 and run for 24 hours straight through the following Sunday. Scuderia Corsa will provide additional updates, including available broadcast coverage, as the event gets closer.
About Scuderia Corsa
2016 IMSA GTD Champion, 2016 24Hours of Le Mans GTE-Am winner, 2016 6H of Watkins Glen Winner, 2016 12H of Sebring Winner, 2016 Pirelli World Challenge GTA Champion, 2015 24Hours of Le Mans Podium, 2015 IMSA GTD and 2013 Grand-AM GT championship-winning team Scuderia Corsa was founded in 2013 by Giacomo Mattioli and Art Zafiropoulo. Follow Scuderia Corsa on Twitter @Scuderia_Corsa, on Facebook at Scuderia Corsa, Instagram at @Scuderiacorsaferrari and ScuderiaCorsa.com
Images courtesy of Scuderia Corsa / Bob Chapman / Autosport Image