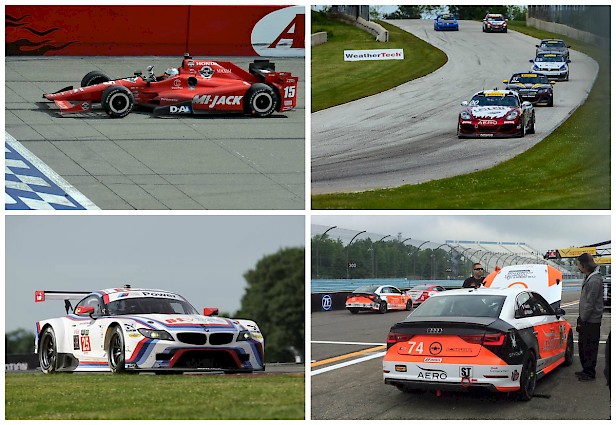 06/29/2015
Weekend Roundup, June 29, 2015
It was another fantastic weekend for AERO™ Advanced Paint Technology drivers competing in Watkins Glen, NY and Elkhart Lake, WI. The IMSA Sahlen's Six Hours of the Glen, Continental Tire 150 at the Glen, as well as the Pirelli World Challenge DeVILBLISS Challenge at Road America were all met with great performance from AERO™ sports car teams. In open wheel racing, Graham Rahal brought home his second IndyCar win in Fontana, CA at the MAVTV 500.
The Sahlen's Six Hours of the Glen proved to be a tough weekend for many teams, fighting rain, caution periods, and a red flag. Nonetheless, BMW Team RLL managed to survive most the drama and maintain a strong pace, despite spinning early and racing from the back of the GTLM class. Drivers Bill Auberlen and Dirk Werner drove the No. 25 BMW Z4 GTLM with an AERO™ Advanced Paint Technology livery to a third place finish, putting the two drivers ahead in GTLM driver points. According to Auberlen, "That [race] was a tough one." Werner added "the car had a very good pace and it is very enjoyable to have a car like this Z4."
In the Continental Tire 150, Jim McGuire, the CEO of AERO™ Advanced Paint Technology parent company, entrotech, inc., helped teammate Nico Rondet secure an 11th place finish in their Compass360 Racing Audi S3. The duo had a tough qualifying session, causing McGuire to start from a paltry 29th position on the grid. The two drivers fought strong in rainy conditions, further proving the viability of the S3's Quattro all-wheel drive system in motorsports.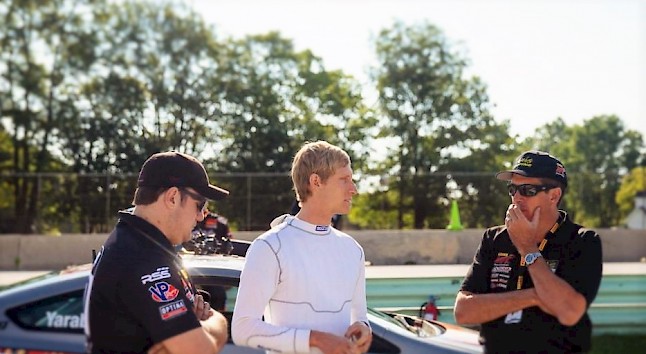 Driver Corey Fergus had a decent weekend at Road America, contesting three rounds in the Touring Car class for the PWC DeVILBLISS Challenge at Road America in Elkhart Lake, WI. Fergus' Round 07 podium finish in his No. 00 AERO-painted Porsche Cayman prepared by Motorsports Promotions helped the young driver defend his TC championship lead. Fergus went on to finish 6th and 11th in rounds 08 and 09 respectively.
Over on the west coast, AERO™ Advanced Paint Technology driver Graham Rahall had a stellar weekend in the IndyCar MAVTV 500 at Fontana, CA. "You don't know how good this feels," Rahal remarked; "it's awesome." Rahal, who was leading in points for the Honda-powered drivers, had a 19th place start on the grid, but fought through to lead early on. The team dropped back to 17th place after some drama in the pits, yet still managed to fight his way back into the top 5. Rahal went on to win the race, his second career win in IndyCar.

Fontana is a particularly brutal track, but the AERO™ livery proved tough, lasting the entire race without issues. The durability and lightweight performance of AERO™ Advanced Paint Technology is a perfect fit for teams looking for an extra edge to gain those crucial fractions of a second off lap times. Other long road circuits such as Watkins Glen and Road America—the longest in the US—also demand weight savings wherever possible. Using AERO™ film-based paint appliques will provide that advantage, with up to 60 percent reduction in livery weight.
Stay tuned for more motorsports action with AERO™ Advanced Paint Technology!