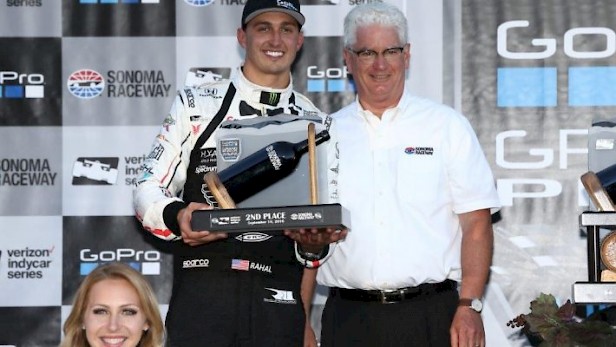 09/19/2016
Graham Rahal takes second place in the AERO-painted Honda at the GoPro Grand Prix of Sonoma IndyCar Finale
SONOMA, California - (September 19, 2016) Graham Rahal capitalized on his best start ever at Sonoma to finish on the podium in second, and fifth overall in the IndyCar season finale at Sonoma Raceway, a home track for AERO™ Advanced Paint Technology. The Ohio-native qualified fifth, and was able to show a strong pace matched with intelligent strategy in the Northern California heat, piloting his Honda-powered Dallara across the finish line just 3.2523 seconds adrift of race winner, Simon Pagenaud.
It was Pagenaud's race all along, starting from pole position, and leading 76 of 85 laps around the 2.385-mile, 12-turn circuit. Rahal was able to catch up to the race leader, passing Conor Daly, Helio Castroneves, Will Power, and Charlie Kimball, closing the gap to less than 1 second to set up for a pass. However, the rear end of the No. 15 Honda started breaking loose, which prevented any chance of a safe and manageable pass.
"Good day, good way to end it," Rahal stated to IndyCar post-race. "I wanted to get Pagenaud," he continued. "I thought at one point it was best I salvage a second place rather than do something stupid." 
Rahal commended the sponsors and team, stating "it was a great way to finish the season. That means a lot."
Rahal was the top Honda for the second season in a row, earning 490 season points in 2015, and 484 points in 2016.
"It feels great to go into the offseason like this," Rahal stated. "Once again we proved that with the quality of the people we have in this organization, keeping their heads down and working hard puts us in the position to fight for wins."
AERO™ Advanced Paint Technology has partnered with Rahal for the past three seasons, providing liveries that are about half the weight of conventional paint, significantly more durable, yet requires no paint booths or sprayers. The AERO™ film-based paint system is the environmentally sustainable solution trusted by Rahal Letterman Lanigan to keep the car looking great while helping to improve lap times and durability.