08/28/2016
Rahal's Late Race Surge Puts AERO™ Advanced Paint Technology in Victory Lane
Closest finish in Texas Motor Speedway history
FORT WORTH, Texas (August 28, 2016) – In racing, every little thing counts. And on Saturday night at Texas Motor Speedway, all the little things added up to the closest victory in track history as Graham Rahal  scored a Verizon IndyCar Series victory by just 0.0080 of a second in the Firestone 600. 
Rahal's late race charge in the restarted race saw him scythe through traffic to position himself perfectly to cross the line with a margin of victory that was all but invisible to the naked eye, as the nose of Rahal's AERO™ Advanced Paint Technology-equipped Dallara/Honda just edged out James Hinchcliffe for the victory. 
The slim margin of victory underscored the critical advantages that every Verizon IndyCar Series squad pursues to take the top step of the podium in the hugely competitive championship. Rahal has extolled the AERO™ Advanced Paint Technology that his RLL Racing squad utilizes on the No. 15 Dallara/Honda for its strength and light weight, as well as the remarkable design possibilities that AERO™ brings.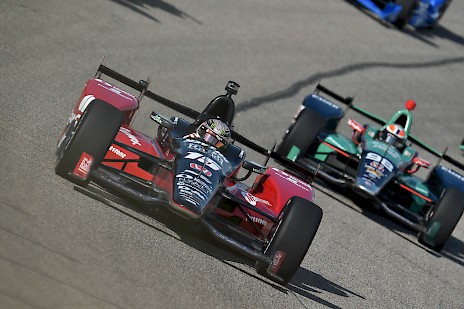 The race, which was the concluding 177 laps from the original rained-out event that started in June, saw Hinchcliffe lead for much of the night. But after Rahal declared his car to be "an absolute hotrod" after the warm-up, he was able to carry that confidence all the way to the checkered flag after emerging from a fraught final dash to the finish that saw him win by mere inches. 
"I had to set that (pass) up," said Rahal as he donned the traditional Texas winner's cowboy hat in victory lane.   "James (Hinchcliffe) did a great job tonight and in all honesty he deserved to win this thing; he led from start to finish.  You've just got to lead that last lap. I knew I couldn't get him on the high side, everybody kept pushing me way up into the wall even if we were three-wide. It was pretty intense. I tell you what, if Texas Motor Speedway fans didn't love that, then they don't love racing because that was by far the best thing we've seen here.  I'm so proud of this Penn Grade team and thankful to everybody that supports us like Steak 'n Shake, United Rentals, Hyatt and more." 
The race victory came hard on the heels of the recent racing loss of Bryan Clauson, as the IndyCar community also marked the one year anniversary of Justin Wilson's passing. Wilson took a 2012 victory over Rahal at Texas.
"It means the world to me," said Rahal. "In all honesty I was thinking about (Bryan) Clausen but more importantly I was thinking about Justin (Wilson) because he and I had a great battle here a few years ago and he got me at the end. I kept thinking about him the last few laps. I definitely miss that guy. He was a great human being and a hell of a race car driver."
IndyCar action continues September 4 at Watkins Glen International for the IndyCar Grand Prix at The Glen.
Photos courtesy IndyCar