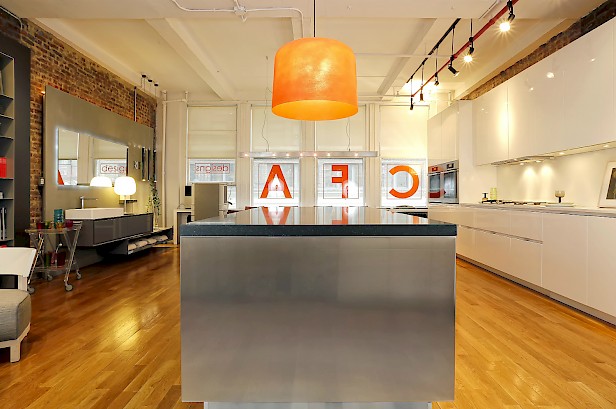 07/08/2016
CFA Designs chooses AERO™ Advanced Paint Technology for its New York City showroom
CFA Designs in New York City, a boutique interior design firm that serves the New York City design community and reaches clients around the world, has chosen AERO™ Advanced Paint Technology to protect and enhance the performance and beauty of the showroom's Ernestomeda stainless steel cabinetry.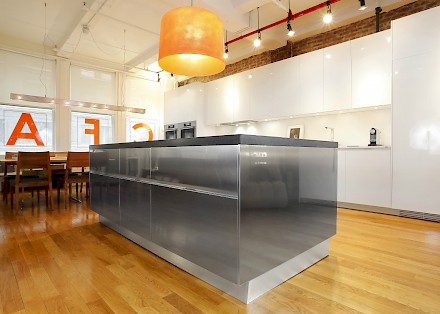 CFA designs is lead by Cinzia Fama Agnolucci. As native of Italy, Cinzia's passion for design, pursuit of the finest brands, and extensive industry knowledge are based in the tradition of art and design of Italy.
Ms Agnolucci's dedication to excellence in design and the finest in products she selects for her clients includes Ernestomeda Cabinetry, one of Italy's premier cabinetry manufacturers. With Ernestomeda's cutting edge design and manufacturing technology, their stainless steel cabinets are not only beautiful, but highly customizable and functional. Cinzia looked to AERO™ film-based paints for an added advantage. AERO marries high value performance attributes with rich aesthetics, all in a flexible, adaptive, and easy-to-install film.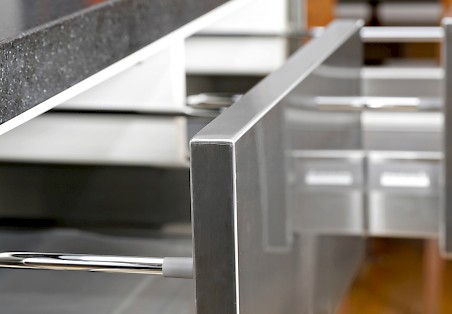 "We applied AERO Clear to our stainless steel cabinets six months ago to protect the stainless steel from the inevitable showroom abuse of scratches and fingerprints. We used to spend hours cleaning the stainless steel cabinets, but no more! We have seen no scratches since the application, and it's nearly invisible! With it being so optically clear you can still see the graining of the stainless steel. It's like it's not even there!". It was applied in only a few hours in the showroom with no drying time, sprayers or paint booths. "That's important to our environmentally conscience clients" Cinzia stated.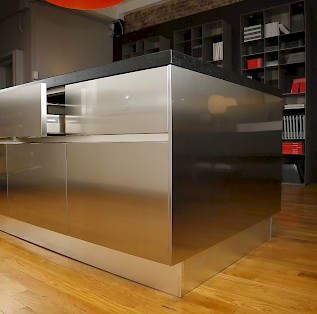 AERO scientists engineered the film-based paint system from the molecule up in order to "build in" increased durability, chemical resistance, and protection from environmental effects. That performance is matched with integrated paint that is indistinguishable from a premium, spray applied paint finish. AERO is appropriate for architectural applications requiring a high degree of technical performance, with the ability to withstand interior and exterior locations. Color, graphics, finish, and sheen are customizable options with the film-based paint solution.
"We set out to make a great, aerospace-grade paint system that eliminated the need for paint booths and sprays," AERO™ Advanced Paint Technology CEO, Jim McGuire stated. "We were able to deliver a high-end paint that is extremely durable, but is also incredibly fast and easy to apply and strip."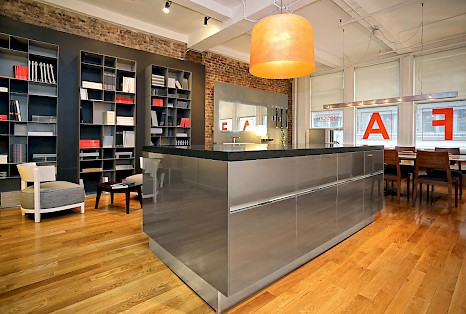 About CFA Designs, LTD
CFA Designs is a New York City company servicing the design industry in Manhattan and beyond, including abroad. After many successful years assisting the most sophisticated clientele in the architecture, interior design and real estate development community on behalf of well-established Italian manufacturers, Cinzia Fama Agnolucci founded CFA Designs in the Spring of 2009.
The beautiful work of CFA Designs is achieved through a dedication to extensive research, study, time, knowledge, patience, vision, resilience, and much more.
CFA Designs' pledge to its clients is commensurate effort, constant attention, deep understanding, and the assurance that if it can be done better, or more beautifully, they will do it. Their staff will assist clients to the extent that they desire: from full design development and project management to the implementation and successful installation of client designs.
About AERO™ Advanced Paint Technology, Inc.
AERO™ Advanced Paint Technology is a Columbus, Ohio-based advanced materials company that designs, manufactures, and sells a series of environmentally sustainable, film-based paints to the aerospace, automotive, and commercial trucking industries. AERO leverages patented and patent-pending advanced materials technologies to develop and manufacture a state-of-the-art, environmentally sustainable high performance paint alternative. For more information, visit: www.rethinkpaint.com.