12/17/2015
AERO™ Advanced Paint Technology looks good, but performs even better for Michael Shank Racing in IMSA
This article originally appeared on MichaelShankRacing.com.
PATASKALA, Ohio (December 17 2015) - Working exclusively with AERO™ Advanced Paint Technology (www.rethinkpaint.com) to provide coverage on Michael Shank Racing's Ligier JS P2, the Honda-powered entry sported some stunning liveries throughout the 2015 IMSA TUDOR United SportsCar Championship season. From a bright red; to a camo blue; to a bright orange; to a red, white, and blue paint scheme, the AERO™ paint applique films have provided eye-catching looks in each race this year no matter the color combination.
"All the liveries AERO has supplied us with over the years have been amazingly vibrant," remarked team owner Mike Shank. "For us, this is important because we want to look good on television and in-person for both the fans and for our sponsors."
And while the AERO™ paint applique film gives the car a unique look, it also gives the Michael Shank Racing team a competitive edge. AERO's one-coat process is lightweight. At less than 150 microns thick, even with embedded graphics, there's less drag as the car moves through the air, helping to create fuel savings. Those advantages, combined with maintenance flexibility, culminates in better performance on track.
"AERO's performance has helped us tremendously on track," Shank continued. "Another benefit that is sometimes overlooked is the fact that the durability has been incredible. We could run the same livery all season long if we wanted or needed to. Durability is unmatched in our industry, allowing us to run the same livery all season long. And when collisions occur, AERO—amazingly—manages to keep carbon fiber body work contained, preventing an unnecessary pit stop."
Michael Shank Racing's Composite and Graphics Technician Kevin Wimer, who paints the car for each race, walked us through the application process.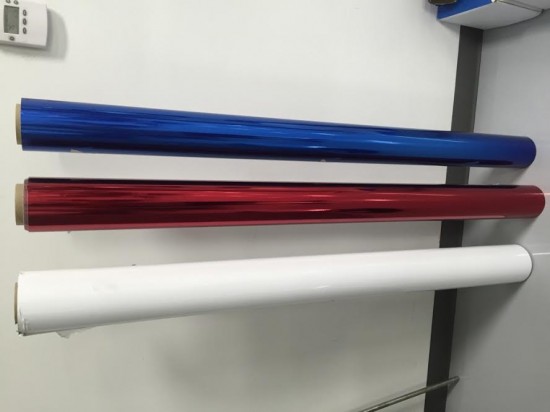 "When we order it, the AERO paint arrives on a roll. When it comes as a roll, my first step is to measure the section of the car I want to do first. I always install each part of the car separately. So I decide what I want to apply, for example the center section of fin on the engine cover. I'll take it and I'll measure the length of that and the width or height and transfer that down on paper. I get it as close as I can so there's the least amount of waste. It goes on really smoothly. The AERO adhesive is engineered to be easily installed with a squeegee. I just start on one edge and work my way to the other edge.
"The rolls have pedestals on each end, so it's very convenient. I just set it right on the ground and pull it off the roll. I do my measurements and cut it out. Most of the time I just use a pair of scissors. And it can go from there straight on the car. There's no real prep work besides measurements. If I could have the whole car together, we could do the whole car and strip it in a day and a half."
Kevin shared how easy AERO™ Advanced Paint Technology is to apply compared to the vinyl wrap that the team had used previously.
"Many people will question how easy it is to apply, but to me it is as easy as, or even easier than regular vinyl. But one of the cool things about AERO is that you don't have to use heat and it contours very well without it. When you use vinyl, you have to use heat to get it to stretch over certain curves, but not with AERO. Applying vinyl wrap is basically the same process. But many times with vinyl you end up having to use a primer around the edge of the bodywork to help keep the vinyl sticking. With AERO paint film I don't use that. It seems to have a pretty good tack without it. That's just one more advantage: time saving.
"Before we had vinyl, we spray-painted everything. That's the huge advantage of AERO, you get the paint look with over half the time savings and half the weight. I used to have to tear everything down, take all the lights out, everything. Get it ready to be sanded, painted, oversprayed, and then it would be gone to the painter. A nose could be gone for almost a week. Whereas now, if I have to repaint something, I can take a minimal amount of AERO off of the car. I even leave all the latches in, and it's a big time saver for us. It usually saves us about three days. AERO really makes it easy on us. You can order what you need and it is usually in our shop within a week."
Kevin has worked for Michael Shank Racing for nearly 10 years, and is very pleased with how well AERO™ Advanced Paint Technology benefits the team, particularly during the actual race weekend in which saving time is critical.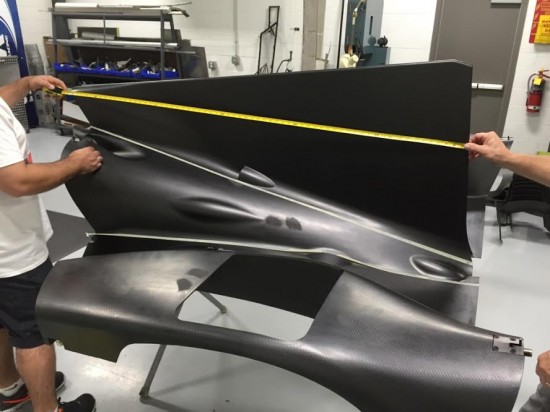 "At Detroit this year, I think we scraped the left side of the car three times during the weekend. After almost every session I had to repaint a lot of the car. In a perfect world you don't have seams when lining up wrap on the car. That's another good thing about the AERO, is that it seams really well. When we do have a track repair, I can literally just cut out the damage and if there's no carbon damage, that's great. I can clean it and then it's just a matter of patching it back together. When we do have damage at the track, it's super nice to just be able to cut it out and patch it. When we used to paint, we would have to grind away a lot of paint and then maybe have a vinyl color that matched close. So that's a great advantage of AERO."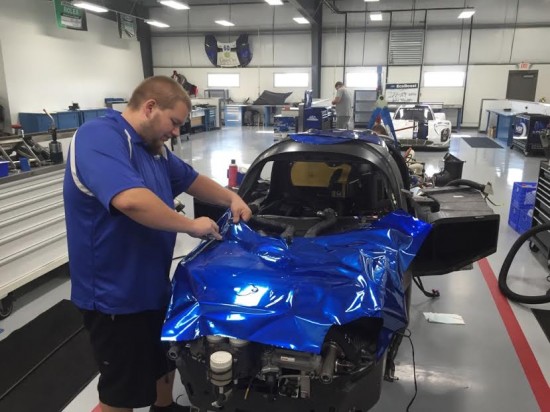 "The AERO product is so easy to clean, too," added the notoriously detail-oriented Shank. "It has built-in resistance to any chemical we keep in the garage, so we can easily wipe it down anywhere in the pits or paddock area with whatever we've got. And it shines right up!"
When Michael Shank Racing first began its partnership with AERO™ Advanced Paint Technology, there was a big focus on how good the cars looked. While that's important, the team soon discovered more and more advantages to using the AERO™ paint applique film; and over the past year several other race teams took notice. The use of AERO™ Advanced Paint Technology is growing throughout the paddock.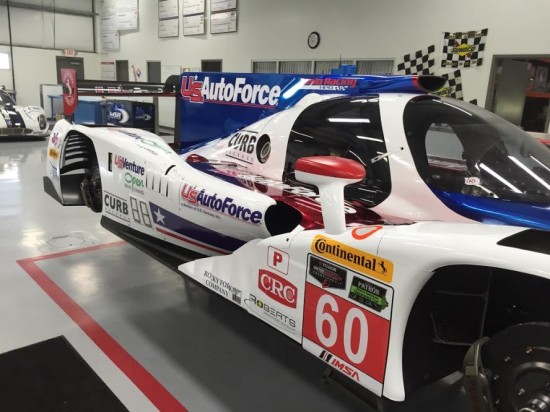 All images courtesy of Sunday Management Group and Michael Shank Racing.