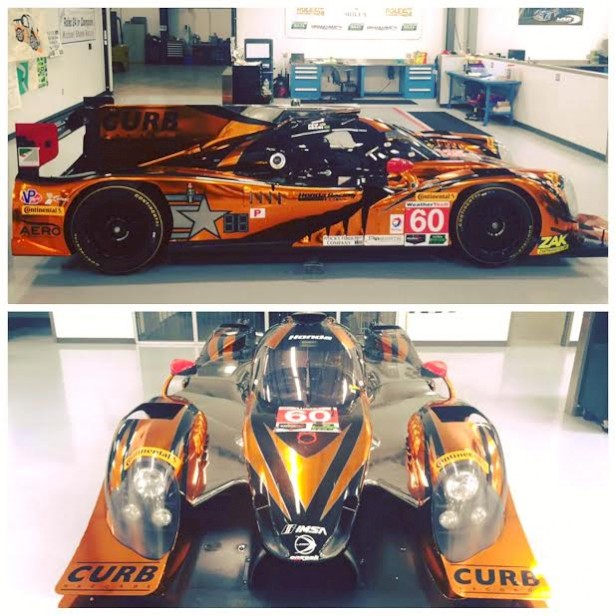 04/12/2016
Michael Shank Racing Long Beach bound in New AERO™ Advanced Paint Technology livery for IMSA's west coast swing
This article originally appears on MichaelShankRacing.com 
BUBBA BURGER SPORTSCAR GRAND PRIX AT LONG BEACH: Round 3 of the IMSA WeatherTech SportsCar Championship
TRACK: 1.968-mile street course, featuring 11 corners through the downtown streets of Long Beach, California.
LONG BEACH DRIVERS: John Pew and Ozz Negri
NEW LIVERY: Known for its stunning liveries, Michael Shank Racing has another new paint design from team partner AERO™ Advanced Paint Technology this weekend.
LOOKING FOR REDEMPTION: Despite dominating early in both of the season opening rounds at Daytona and Sebring, Michael Shank Racing hasn't had the results to show for it. The squad led 99 laps in the Rolex 24 At Daytona in January, only to retire during the night time hours due to engine failure. The team showed strength at Sebring, leading 34 laps and was poised for a podium result when a broken suspension saw the car retire on the final lap of the 12-hour race.
THE REARVIEW: Michael Shank Racing has made two previous starts at Long Beach. The first came in 2014 while fielding a Daytona Prototype in which the team was involved in a first-lap crash. Following a massive effort to make repairs and return to the track, Ozz Negri set the fastest lap of the race. Last year, the team took to the streets with its new Honda Ligier package, but a lack of caution periods in a race notorious for its yellow flags, caught the team out on strategy.
2014: Started 2nd, Finished 9th (John Pew, Ozz Negri in the No. 60 Ford EcoBoost Riley)
2015: Started 7th, Finished 6th (John Pew, Ozz Negri in the No. 60 Honda Ligier JS P2)
THE WIZARD OF OZZ: Ozz Negri competed in a triathlon back at home in Miami, Florida the week following the Mobil 1 Twelve Hours of Sebring. The event was a sprint distance of a .5-mile swim, 12.4-mile bike ride, and a 3.1-mile run and Ozz finished 7th in his age group. Read about Ozz's fitness routine here.
MIKE SHANK TALKS LONG BEACH: "The sprint race format does not change how we prepare. The car is still prepared the same way as we do for the Rolex 24 and for Sebring. We will get all the weight out of the car that we can, but otherwise it's prepared very similarly. Strategically, though, Long Beach is totally different. This year we also have added the PC cars to the mix (in addition to the GTLM cars that ran in last year's race) which changes our strategy. For a one-hour, 40-minute race, it's a one-stop race. The question is when do you stop?"
CONTINUED PREP FOR LE MANS: In addition to the 2016 IMSA WeatherTech SportsCar Championships events, Michael Shank Racing continues prep for the 2016 24 Hours of Le Mans. Mike Shank has started a blog about that effort for SportsCar365 – check it out here.
TELEVISION BROADCAST INFORMATION: 
LIVE: Saturday, April 16, 7:00 PM ET, FOX Sports 2
REPLAY: Sunday, April 17, 12:30 PM ET, FOX Sports 1
WEEKEND SCHEDULE:
SOCIAL MEDIA: Follow Michael Shank Racing on Twitter (@MichaelShankRac) and Instagram (michaelshankracing) for updates throughout the event!