06/14/2016
Michael Shank Racing with CURB/Agajanian Ready to Take On Le Mans
This release originally appears on MichaelShankRacing.com 
SOCIAL MEDIA: Be sure to use the hashtag #MSRLM24 to follow all of Michael Shank Racing's updates on social media.  (https://twitter.com/michaelshankrac,https://www.instagram.com/michaelshankracing/)
Track – Circuit de le Sarthe at Le Mans: A semi-permanent race course that uses local roads that remain open to the public most of the year. The circuit, in its present configuration, is 8.47 miles long, making it one of the longest circuits in the world.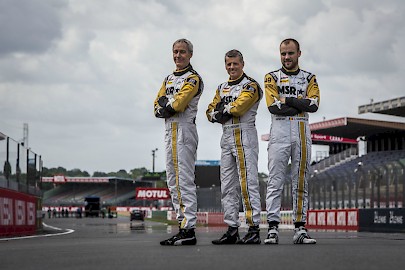 24 Hours of Le Mans Drivers: John Pew (USA) // Ozz Negri (Brazil) // Laurens Vanthoor (Belgium)
John Pew and Ozz Negri will each make their debut in the 24 Hours of Le Mans as Michael Shank Racing prepares for its first ever start in the prestigious event. Laurens Vanthoor has one career start in the race, driving for Oak Racing in a Ligier JS P2 Honda last year.
Collaboration with Onroak & Honda: The invitation to Le Mans was generated as part of the collaboration between the ACO and IMSA after the team earned the opportunity thanks to John Pew winning the 2015 Trueman Award in IMSA competition. The 2016 24 Hours of Le Mans is a collaborative effort between Michael Shank Racing, Onroak and Honda.
The Journey to Le Mans: The Michael Shank Racing team has been out of the country and on the road since May 21. The team first tested in Italy at Monza before traveling to Le Mans, France to begin preparations for the 24 hour race. In between the test and the 24 Hours of Le Mans was the Detroit IMSA event which saw the team back in the United States. While half of the Michael Shank Racing team remained in Le Mans, France to prepare its 24 Hours of Le Mans car, the other half made the return trip to the States for the Detroit event.
Detroit Crew: Mike Shank, Dale Wise (Lead Engineer), Colin Ward (Assistant Engineer), Darin Pigg (Mechanic), Trent Butterfield (Mechanic), Ralph Lohr (Tires), Jason Givens (Team Coordinator)

Additional Detroit crew: Bob Lohr, Jesse Reznor, Brian Bailey, Noah Bailey, Rich Roberts, Kevin Doran

Le Mans Prep Crew: Justin Harnisfager (Crew Chief), Dave Leiter (Mechanic), Kevin Wimer (Mechanic), Brett Dozmati (Electronics)
Fresh off of recent IMSA victory: Michael Shank Racing drivers John Pew and Ozz Negri drove to a convincing win in the Continental Tire Monterey Grand Prix powered by Mazda at Laguna Seca in May. It was the first win for the team since its victory in the 2012 Rolex 24 At Daytona when the Pataskala, Ohio-based team stood atop the Daytona podium in the 50th Anniversary running of the event.
It was a combination of sharp strategy calls, perfect pit stop execution, and flawless driving that saw the team take the checkered flag first in line.
Michael Shank Racing's History in 24 Hour Endurance Races: Michael Shank Racing has completed over 45,000 miles in 21 Rolex 24 At Daytona races. The team has scored three podiums in the Rolex 24 at Daytona including a win in the 50th anniversary of the race. The group finished second in 2006 and third in 2012 and has scored eight top-five finishes.
MICHAEL SHANK RACING 2016 24 HOURS OF LE MANS DRIVER QUOTES:
John Pew: "Both Ozz (Negri) and I spent many hours on the GPX simulator down in Miami. It is very realistic and great preparation for this track. The first time here at the test, I knew what was coming around the corner and I knew what to expect. But there is a difference between a simulator and the real thing. The simulator has no consequences. I think by race time we'll be really good. I felt pretty comfortable on track during the test and I'm ready to go!"
Ozz Negri: "It's always been a dream to be here at Le Mans ever since I was a young boy. I always tell people that at Christmas time the movie that we watched was Le Mans. All throughout my career – especially when I moved from formula cars to sports cars, it's been a dream to come here. I'm extremely pleased and happy and honored to be here this year with John (Pew) and Laurens (Vanthoor). I've been with Michael Shank Racing for 12 years now, so it's a perfect combination to be here."
Laurens Vanthoor: "It's fair to say that in P2 we're a fan favorite. Just because the team is here for the first time, it's the first time for Ozz (Negri) and John (Pew), and for me only my second time. I am quite impressed with the team. I thought that with a brand new team coming to Le Mans, I thought there might have  been some hiccups. But everything is very organized. Mike (Shank) has done a great job. The team works really well together. Everything we've done up until now has been perfect. The collaboration with Ozz and John has been great. Our goal is to be consistent and not make any mistakes in order to get as good of a result as possible."
Photos courtesy of Sunday Group Management