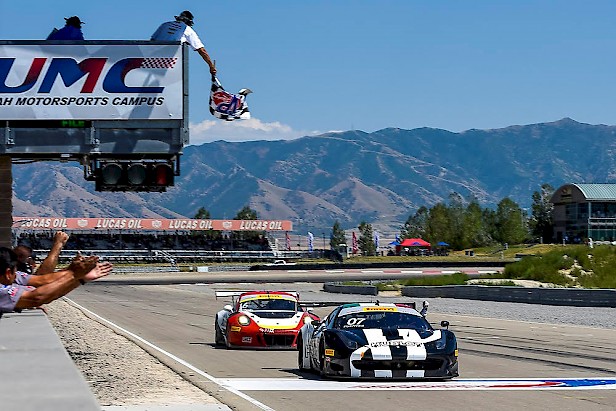 08/15/2016
Fuentes and Ferrari Set Pirelli World Challenge Record with AERO™ Advanced Paint Technology
Ninth victory of season on Sunday at Utah Motorsports Campus is new PWC record
TOOELE, Utah (August 15, 2016) – Scuderia Corsa driver Martin Fuentes raced right into the record books this weekend as the Mexican pilot drove the No. 07 HUBLOT Scuderia Corsa Ferrari 458 Italia to victory in Pirelli World Challenge competition at the Utah Motorsports Campus on Sunday. The victory is his ninth win of the 2016 season for the AERO™ Advanced Paint Technology-liveried Ferrari 458 Italia, which has led the championship since the opening rounds of the season. 
The run to victory on the 3-mile circuit was the second podium on the weekend for Fuentes, who finished second in the Saturday sprint segment of the double-header weekend. 
"It was a very tough race for us, and for the team, and we were just happy to pull another victory," said Fuentes. "We're so happy to set the nine-win record, the team did a great job. It was, of course, a lot hotter (today) but my car was handling really bad on the back, with the rear tires. So I'm just happy we finished another race, no mistakes, and ended with another victory."
The victory helped Fuentes further solidify his leading championship position as the series prepares for the next double-header race weekend, set  for September 16-18 at Sonoma Raceway.
Fuentes won;t be the only AERO™ Advanced Paint Technology-equipped driver to be taking his racing suit to the dry cleaners, as Corey Fergus scored fifth in GT Cup competition on Saturday before upping his game for a third place finish on Sunday with the No. 00 Byers Porsche/US LED/AERO™ Advanced Paint Technology Porsche 911 GT3.
This weekend will see the return of Verizon IndyCar Series action as Rahal Letterman Racing's Graham Rahal looks to take his Steak and Shake Honda-Dallara into victory lane at Pocono Raceway on Sunday. Two other distinctive machines to keep an eye on will be the AJ Foyt Racing duo of Jack Hawksworth and Takuma Sato, both of whom utilize AERO™ Advanced Paint Technology on their Honda-Dallara IndyCars. 
Image courtesy of Scuderia Corsa / Bob Chapman / Autosport Image