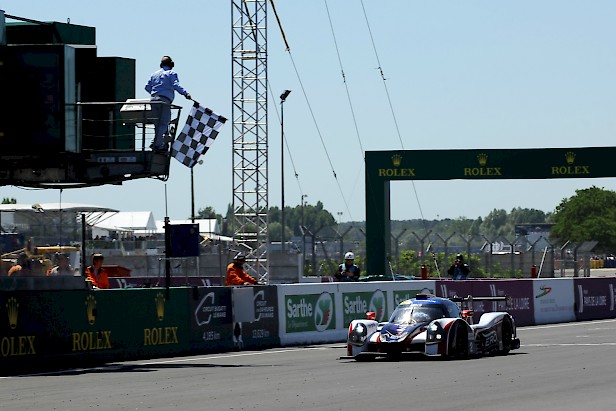 06/17/2017
United Autosports Win Michelin Le Mans Cup Scorcher
Three-car United entry achieves two podiums and three top-seven placings
Falb/Rayhall victorious after car crew works through night to change engine
Bell/McGuire claim creditable seventh in opening race
United Autosports achieved a fantastic victory as the Anglo-American team chalked-up three top-seven placings – including two rostrum finishes – in the two Road to Le Mans races staged as support events to the Le Mans 24 Hours. Two 55-minute races counting towards the Michelin Le Mans Cup were run on Thursday evening and Saturday morning using the famous 8.47-mile circuit with a three-car Ligier JS P3 entry.
 
In Thursday evening's race staged in ambient temperatures of almost 30C, the #2, #22 and #23 Ligiers of Falb, Bell and Lynn started fourth, 11th and 40th respectively on the 49-car grid. With four laps completed, Bell was up to sixth, with Falb eighth and Lynn 34th. Falb, a podium finisher in the corresponding race last year, pitted with 32 minutes gone, with Bell and Lynn both making their compulsory pit-stops one lap later, the #2 (Rayhall), #22 (McGuire) and #23 (Meins) placed third, fifth and 31st overall respectively after all competitors had made their stops. Rayhall took the lead on the ninth lap with 19 minutes remaining, ultimately taking the chequered flag almost six seconds clear after 13-laps with McGuire seventh – slipping two places two laps from home – and Meins 22nd in class.
 
The sun was shining once again for Saturday morning's race with Falb, Meins and McGuire starting the #2, #23 and #22 Ligiers. Falb slotted into second place from his front-row start, Meins ran 20th while McGuire had a harmless spin. Falb took the lead with 22 minutes gone prior to pitting to Rayhall eight minutes later with Lynn taking over from Meins (20th) and Bell replacing McGuire (41st). Rayhall took on new tyres, resuming third but was up to second with 20 minutes to run. Sean duly took the chequered flag second, almost 18 seconds behind the winner with the charging Bell 16th and Meins just three places further back.   
 
United is now third in the Michelin Le Mans Cup Teams' standings while European Le Mans Series regulars Falb/Rayhall are placed third in the Driver rankings with Bell/McGuire 18th in the six-event, seven-race series and Lynn/Meins 21st. In the corresponding race last year, United achieved pole-position (Martin Brundle), second (Brundle/Christian England) and fifth (Guy Cosmo/Mike Hedlund) places respectively plus fastest race lap (Cosmo). The third round of the Michelin Le Mans Cup is held at the Red Bull Ring (A) on 22 July where United reverts to its regular two-car entry of Bell/McGuire plus Lynn/Meins.
Team Quotes
#2 Falb/Rayhall.
Race 1 - Qualified: 4th, 3:53.346 (SR). Race: 1st  (LMP3).
Race 2 - Qualified: 2nd, 3:55.510 (JF). Race: 2nd (LMP3).
John Falb (USA):
"I didn't get out on track in Wednesday's practice due to an engine issue but Thursday's race more than made up for that! It was awesome after Sean put the car on the second row and I made a good start. I just kept my head down and pushed as hard as possible and had a great pit-stop to Sean. This track is just so epic that every lap is precious. I qualified our car second for Race 2 and had a great first stint bringing the car in to Sean in the lead. We got boxed in a little for the pit-stop costing us some time. It's been wonderful."

Sean Rayhall (USA):
"I managed a couple of laps in practice on Wednesday before an engine issue stranded me out on track and which necessitated an overnight engine change. Our car crew didn't go to sleep or leave the track so big kudos to them and we owe our victory to their hard work. Seeing the Stars and Stripes flag flying over the rostrum at Le Mans brought tears to my eyes. Getting a second podium on Saturday, in front of a massive crowd, was truly awesome. It's a big deal coming over here and having this kind of success. Amazing!"

#22 Bell/McGuire.
Race 1 - Qualified: 11th, 3:54.214 (MB). Race: 7th (LMP3).
Race 2 - Qualified: 27th, 4:14.745 (JM). Race: 16th (LMP3).
Matt Bell (GB):
"Qually was very tricky. You would think on an over eight-mile track you would get free air but we spent the whole session in traffic. I really enjoy starting races, especially in Le Mans, and I began Thursday's race. I got stuck in from the off, it got a bit hairy but I worked my way through and pitted in fifth while Jim drove well and brought it home seventh. Jim started Race 2 and made up places but got tagged at the Ford Chicane. I took over from him and just got my head down – there was a fair bit of carnage out there with everyone getting a bit racy."

Jim McGuire (US):
"From a racing point of view, these have been the most amazing days of my life! To be at Le Mans, that doesn't normally happen – it was like a dream coming true. In Thursday's race, Matt pitted from P5 and he told me 'just get in and drive the car – enjoy yourself'. I hung in there learning the track as I went along. Every single element of Le Mans this week has been amazing. Race 2 was exciting starting towards the back. I worked my way through traffic went to make a pass but was punted from behind. It's been a great experience and I'm very proud of what we achieved at Le Mans."

#23 Lynn/Meins.
Race 1 - Qualified: 29th, 4:10.552 (SL). Race: 22nd (LMP3).
Race 2 - Qualified: 21st, 4:07.399 (RM). Race: 19th (LMP3).
Shaun Lynn (GB):
"I really enjoyed the first race but unfortunately I was too hesitant at the start. It was pretty 'busy' on-track and it was a case of who was the bravest with the sports-prototype machinery being so close in performance. Race 2 was much better with my lap times coming down. So thanks to a great team in doing a fantastic job in teaching me to drive better! The Ligier car was faultless all weekend."

Richard Meins (GB):
"It's been so good especially racing in front of full grandstands on Saturday. Driving an LMP3 car around Le Mans was a bit different from the Ford GT40 or Lola T70 that I race here in historics. I eventually found my braking points and the lap times came down. I made a good start on Saturday and had a decent race. It has essentially been a couple of guys [Shaun and I] having a great time and massive fun in an incredible sports-prototype!"

Zak Brown, Team Owner and Chairman, United Autosports:
"We've achieved fantastic results over the past two days in both races. All of our guys drove great races. Having finished second in the corresponding race last year, I'm delighted to experience the win this time around."

Richard Dean, Team Owner and Managing Director, United Autosports:
"What a great weekend!  A win, second place plus Jim McGuire and Matt Bell getting inside the top-10 was fantastic. Shaun and Richard just got faster and faster over the weekend and loved the experience. We've got six happy LMP3 drivers leaving Le Mans combined with achieving amazing results which is always our aim."