09/17/2014
FIA confirms world speed record for OSU-Venturi electric vehicle
The Fédération Internationale de l'Automobile (FIA) confirms world land speed record for Ohio State's Venturi VBB-3 electric vehicle in Category A, Group VII, Class 8, despite storms preventing outright record attempt.
COLUMBUS, Ohio (September 17, 2014)—The Ohio State University Center for Automotive Research's Venturi Buckeye Bullet team has successfully chased down yet another international record for electric land speed vehicles.
Photo Credit: Denis Boussard/Venturi Automobiles
On Friday, August 22, 2014 professional driver Roger Schroer guided the Venturi Buckeye Bullet 3 (VBB-3) to an average two-way speed of 212.615 miles per hour (342.171 km per hour). The new record set by the VBB-3 was confirmed this morning by the FIA, the worldwide motorsports governing body, in Category A Group VIII Class 8. This is a new competition category for the team, which had its most recent record-breaking vehicle (2010) set a record in FIA's Category A Group VIII Class 4.
The VBB-3 was required to make two speed runs, one each in opposite directions and within 60 minutes, in order to be considered for the international record. While the record is officially determined by averaging the speed of the two runs in the middle of the eight mile course, the fastest time the VBB-3 exited timed middle mile—known as the flying mile—was at 270 miles per hour.
Photo Credit: Denis Boussard/Venturi Automobiles
"This was an excellent first outing for the vehicle. The team faced daily trials but pushed forward," says David Cooke, mechanical engineering graduate student and Venturi Buckeye Bullet 3 team leader.
"These very first tests were very valuable, giving us plenty of data for the various systems (powertrain, suspensions, batteries) and proving that the car has been well designed, guaranteeing the achievement of new standards in terms of very high speed," explained Nicolas Mauduit, Program Director at Venturi Automobiles.
"In this remarkable period of time when the weather played on our nerves, the team showed its considerable resources, and its firm, unwavering commitment," added Delphine Biscaye, VBB-3 Project Manager at Venturi Automobiles.
Although the planned debut of the VBB-3 was slated for Speedweek, August 9 to 15 in Wendover, Utah, rain forced the cancelation of the 100th anniversary racing event sanctioned by the Southern California Timing Association. Despite the cancelation, the OSU Venturi Buckeye Bullet team remained on site for a private event managed by Mike Cook's Land Speed Events and secured the newest record. While additional rain and high winds during the private event prevented the team from making as many runs as it would have liked, the team and vehicle prevailed. Due to the rains the race track was reduced from the typical six and one half mile course to less than three and one half miles.
AERO™ Advanced Paint Technology provided the environmentally friendly, lightweight livery for the VBB-3. By leveraging developments made for the aerospace industry, AERO™ Advanced Paint Technology engineers developed a sustainable, film-based paint applique that not only decreases weight over traditional spray paints by 50 percent, but also increases durability and aerodynamic performance without needing harmful chemicals or sprayers. The technology has had proven success in motorsports, general automotive, and aerospace applications, which made it a perfect fit for a land speed record vehicle.
Jim McGuire, CEO of entrotech, AERO's parent company, remarked that AERO™ Advanced Paint Technology "was developed specifically for the Boeing 787 Dreamliner," which required a lighter weight, easy-to-install, and highly durable film solution to replace traditional spray paints. "We were able to engineer in significant performance gains, while maintaining our commitment to environmental sustainability." Columbus, Ohio-based entrotech has a long-standing relationship with OSU, and maintains a position in the top-10 employers of engineering interns. Mr. McGuire is a strong advocate of the internship program, which help lead to AERO's success with the OSU Center for Automotive Research.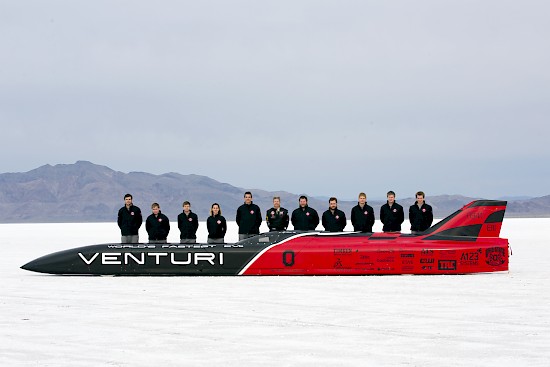 Photo Credit: Denis Boussard/Venturi Automobiles
About The Ohio State University Center for Automotive Research
Based out of The Ohio State University's Center for Automotive Research, the Venturi Buckeye Bullet team's mission is to provide unique engineering challenges for students. The team strives to provide valuable, hands-on experience, creating some of the best young engineers in the world. The goal is to promote and represent sponsors professionally and with integrity, aiming to bring together great minds and new technologies to overcome the most difficult challenges. This student team pushes the envelope of electric vehicle technology and in so doing hope to change public perception of electric vehicles. Mission: prove that green technologies of the future will be both fun to drive and fast! More: http://car.osu.edu/motorsports/buckeye-bullet. Follow the team on Twitter at @OSUCtrAutoRsrch, @Venturi and using #VBB3.
About Venturi Automobiles
Venturi Automobiles was founded in 1984 in France as a sports car manufacturer. Purchased in 2001 by Gildo Pallanca Pastor, it focuses on innovation in the field of electric vehicles by harnessing the most advanced technological solutions in this area. Venturi expertise extends from urban cars to high-performance vehicles. More: http://en.venturi.fr/home.
About AERO™ Advanced Paint Technology
AERO™ Advanced Paint Technology is a division of entrotech, Inc. Established in 1999, entrotech is a technology business that designs, develops and commercializes innovative materials used in many of the world's most advanced products. The company's focus is on life sciences, data storage, display enhancement and protection, green paint applique films and premium carbon fiber products. With executive offices and laboratories in San Francisco, the company has manufacturing and development facilities in Columbus, Ohio. For more information, visit: www.rethinkpaint.com
--30--