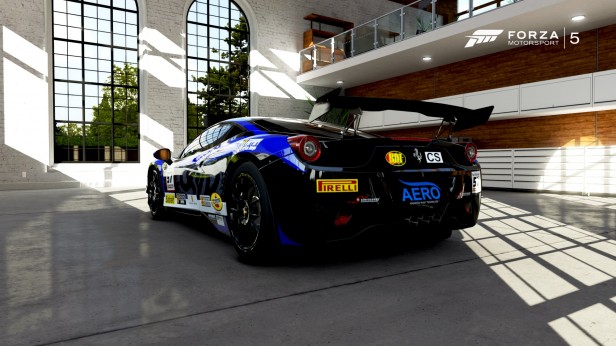 08/15/2014
AERO Advanced Paint Technology™ featured on Jackie Heinricher's Ferrari 458 Challenge Car Now Available in Microsoft Studios' Forza Motorsport 5
AERO Advanced Paint Technology™ is one of the best livery options to capture aesthetic value that appeals to fans at the track, audiences at home, and sponsors. We achieve this enhanced value by using paint in our highly durable film, due to the overwhelming depth of image it has over substitutes, thereby giving AERO higher gloss levels, greater vibrancy, and better color consistency.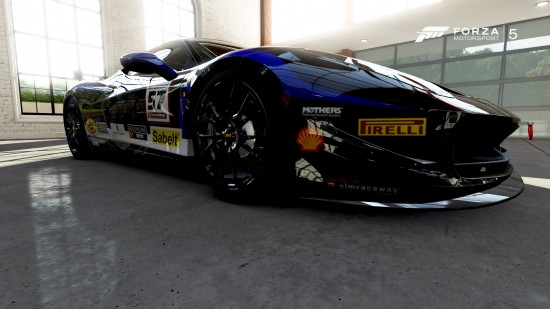 That aesthetic value now, for the first time in AERO history, is now making its way into the digital world. Microsoft Studios' Forza Motorsports 5 on the Xbox One will now be featuring the AERO Starlight Black and Cobalt Blue LM livery from Jackie Heinricher's Ferrari 458 Challenge car. The livery features Ms. Heinricher's key sponsors as well as Ferrari Challenge Series sponsors.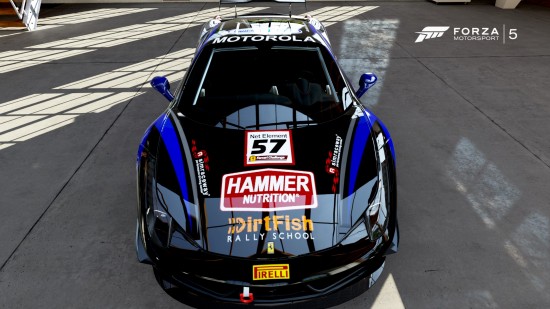 In addition to her daily life as the founder and former president and CEO of Booshoot LLC, Ms. Heinricher races in the North American Ferrari Challenge Series. She became interested in AERO Advanced Paint Technology™ because of the enhanced durability and reduced weight engineered into a paint system that looks incredible. As an entrepreneur, Ms. Heinricher knows the importance of a competitive advantage, and she came to AERO seeking just that: a value differentiator to enhance performance, attract sponsors, and look good!
The livery package caught the eye of programmers at Microsoft Studios who diligently and meticulously modeled the car for an expansion into the Forza 5 video game. Gamers can log in to their in-game "Careers," search for "BDI" in the "DESCRIPTION" field under "RECOMMENDED DESIGNS" in the Showroom, and download the AERO "Jackie Ferrari" livery and custom tune for the Ferrari 458 Italia.
The team at AERO is excited to have Ms. Heinricher's livery featured in Forza 5. We apologize in advance for any slippage in delivery time due to declining in workplace productivity as a result of the recent capital expenditure on an Xbox One. In other news, I just finished P1 at Spa with Jackie's 458 Challenge!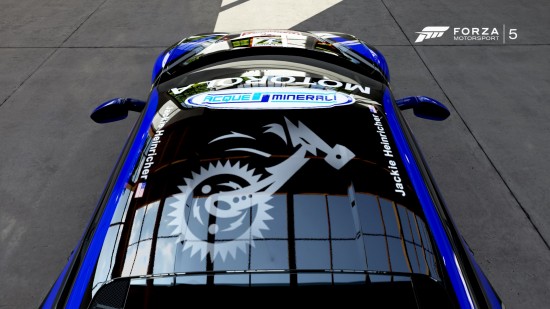 Follow the links to learn more about Microsoft Studios' Forza Motorsport 5 and Ms. Heinricher's 458 Challenge featured on Heavy Metal Affliction.