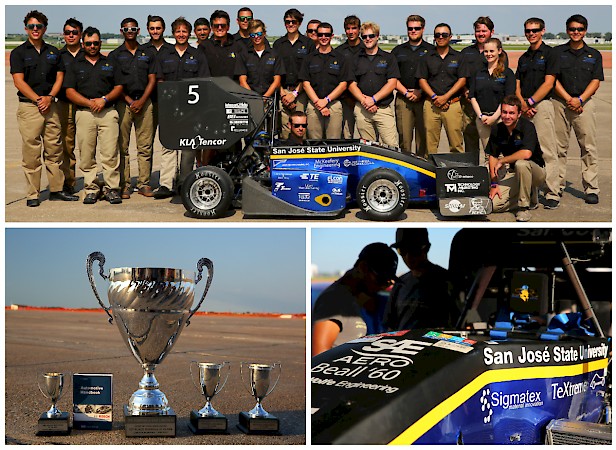 08/19/2015
San Jose State University Completes Outstanding 2015 Formula SAE Season
AERO™ Advanced Paint Technology operates out of both Columbus, OH and San Francisco, CA. In both locales, the AERO™ Advanced Paint Technology team, and parent company, entrotech, maintain an active presence in the community, especially with local universities with academic and extracurricular activities germane to our core competencies. entrotech prides itself in providing internship and development opportunities for college students pursuing career paths in our field. In that vein, we were extremely proud to partner with nearby San Jose State University's Spartan Racing program for the second year, as they continue to make marked gains in the world of motorsports.
According to the the SAE website, Formula SAE is a student design competition that takes students out of the classroom and allows them to apply textbook theories to real work experiences.  The concept behind Formula SAE is that a fictional manufacturing company has contracted a design team to develop a small Formula-style race car. The prototype race car is to be evaluated for its potential as a production item. The target marketing group for the race car is the non-professional weekend autocross racer. Each student team designs, builds and tests a prototype based on a series of rules whose purpose is both to ensure onsite event operations and promote clever problem solving.
SJSU Spartan Racing made quite a name in 2015 at the event in Lincoln, NE. Taking home the overall win, beating out 80 competitor teams from over 5 countries across 3 continents. The team grabbed First in Endurance, First in Autocross, Second in 3-View Drawing, Third in Skidpad, and Fourth in Fuel Economy, in addition to a number of other contests. Not only was this the first win for Spartan Racing, but the first time in a California-based team has won the competition in over 35 years.
The stellar showing at Lincoln followed a competition at Michigan International Speedway, where the team achieved First in Skidpad and Fifth in Autocross, but were stymied in the Endurance event by engine troubles.
The team elected to utilize AERO™ Advance Paint Technology for their livery, giving the team not only an aesthetic advantage with the Satin Black and AERO™ Liquid Metal™ Cobalt Blue livery, but also provided a significant gain in durability over conventional paint. The self-healing, urethane-based paint film provides superior protection from stone chips, abrasion, and environmental effects, and can also keep carbon fiber intact post-collision. Theses performance gains are achieved without increasing weight; indeed the advanced paint system is approximately half the weight!
The SJSU Spartan Racing team has ambitious plans for the 2016 season, including the team's first European competition. Follow the team on Facebook for current updates.