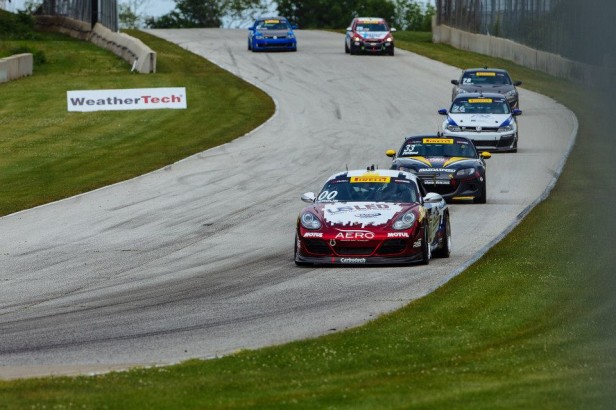 09/15/2015
Corey Fergus wins TC Championship for the Pirellli World Challenge with AERO™ Advanced Paint Technology
From Corey Fergus release:
MONTEREY, California (September 15, 2015) - Corey Fergus earned his first professional racing championship Sept. 13 at Mazda Raceway Laguna Seca when he claimed the 2015 Pirelli World Challenge (PWC) Touring Car (TC) class title by a margin of 33 points over Ernie Francis, Jr.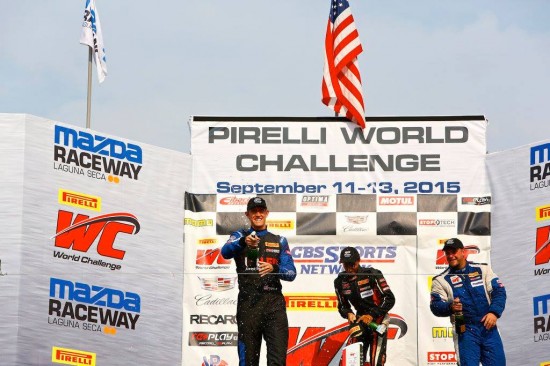 The race weekend trajectory mirrored the elevation changes of the 2.238-mile road course for Fergus, who recovered from an 11th-place finish in Race 1 to win Race 2 and finish second in Race 3. 
"The first race of the weekend went from such a high to a low very quick," the Columbus, Ohio-native said. "I was essentially leading the race on what was supposed to be the last lap under caution. The series decided to lengthen the race and throw the green. I ended up getting taken out of the race along with the other top-two cars in the championship hunt before we made it out of Turn 1."
The No. 00 USLED/Axis Roofing/AERO™ Advanced Paint Technology/RSS/Motul Porsche Cayman finished 11th, but with Fergus' championship contenders also finishing poorly he remained in the points lead. 
The Motorsports Promotions team worked for 16 hours to prepare Fergus' car for Race 2, which he went on to win after starting second. 
"I had an incredible fight with Ernie Francis, Jr. in Race 2, and by no means did I have the faster car," Fergus said. "Ernie (Francis, Jr.) was much faster, and I spent the whole race looking in my mirrors after jumping into the lead. It was an amazing win, because I couldn't have won the championship without that victory."
Fergus also started second for Race 3, and jumped out to an early lead. He fell back to fourth after leading the first four laps, but watched the second and third-place cars battle before they eventually made contact with each other.
"I knew that I only needed a fifth-place finish to lock up the championship even if Francis, Jr. won," Fergus said. "When I saw the two guys in front of me get together I inherited second, and I knew all I had to do was hold on. I didn't need to finish on the podium in that last race, but it sure was special doing so. It was the right way to end the season and win the championship."
The TC class championship holds extra value for Fergus, who could not have accomplished the feat without his team Motorsports Promotions. 
"It's extremely meaningful to win this championship with my dad John Fergus as team owner, and my friends and family on the crew," he said. "Our whole family won this, which is very special. It was all about consistency this year, but we overcame all of the obstacles put before us. And now we're the champions!"
Of the seven different PWC classes, Fergus' TC class championship win of 33 points over Ernie Francis, Jr. was the closest margin of victory.
To stay up to date with Corey Fergus during the off-season, follow him on Twitter at @CorwinFergus, or on Facebook.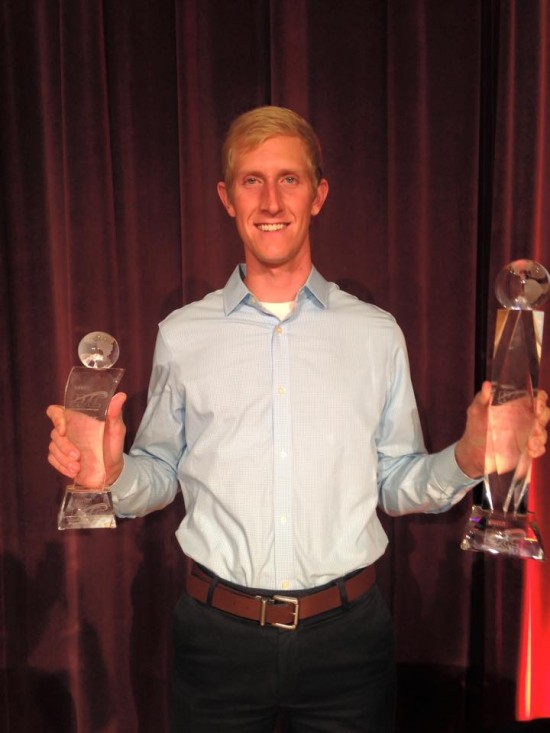 Edited from Pirelli World Challenge article:
With the season ending PWC finale weekend at Mazda Raceway Laguna Seca now in the books, the Drivers' Champions across the series' seven classes have had a few days to reflect on their success in 2015. Johnny O'Connell in GT, Frankie Montecalvo in GTA, Colin Thompson in GT Cup presented by MOMO, Michael Cooper in GTS, Corey Fergus in TC, Jason Wolfe in TCA and Johan Schwartz in TCB received their championship trophies in front of a large gathering Sunday night at the series' awards banquet in Monterey, CA.
In his rookie season, Fergus battled with No. 98 Breathless Racing/Time4 Learning MX-5 pilot Ernie Francis Jr., another young up-and-coming driver for the championship in TC. Fergus had three wins and won over Francis Jr., winning by a mere 33 points. "This championship was a very special one for the whole family. The crew is all family and friends and my team owner is my dad," said Fergus. "It's dad's 15th championship but first professional one as team owner and my first professional championship. So it was a double championship in our family. It was also mom's 60th birthday the day we won, so we will never forget this one. We came to race in Pirelli World Challenge this year because it looked like a great racing series and a place where a driver could show their talent better with the single driver format. I'm sure glad we did because what a great season it was. We were shooting for the championship before the season began, but it sure it nice when your dreams actually do come true. Winning the championship as a series Rookie is even more special, which won us the Rookie of the Year award in TC. There's not much more you can accomplish as a Rookie so I'd say we had a pretty amazing year. What an amazing way to finish the season with a win and a podium at the finale weekend. We also had the best race of the season in Race 2 at Mazda Raceway Laguna Seca with Ernie Francis, Jr. What a battle that was, and ultimately winning that race was the deciding factor in winning the championship. It really capped off an impressive season for us."
Original article can be found here.