11/04/2014
AERO™ Advanced Paint Technology shows performance and value at SEMA 2014
LAS VEGAS, Nevada (November 4, 2014) – AERO™ Advanced Paint Technology is a film-based paint system that has been developed within the aerospace industry for the Boeing 787 Dreamliner, perfected in motorsports, and now available to the consumer aftermarket. The Specialty Equipment Market Association (SEMA) has provided an annual platform for the AERO™ Advanced Paint Technology team to showcase the lightweight, durable paint technology in the SEMA Show at the Las Vegas Convention Center.
The SEMA Show is the largest automotive aftermarket industry event, and one of the largest conventions held in Las Vegas. As the premier automotive specialty products trade show, the SEMA Show draws over 60,000 attendees to over 500,000 square feet of space filled by 2,000 exhibitors occupying over 10,000 booths. Displays segmented into 12 sections and a New Product Showcase, will allow exhibitors, manufacturers, buyers, industry representatives, and media to attend education seminars, product demonstrations, and networking opportunities.
This year's SEMA Show featured a custom Nissan GT-R wide body painted with Cobalt Blue from the AERO™ Liquid Metal™ series paints. The GT-R was entered by San Francisco Bay Area customizers GT Auto Concepts who specialize in high end and exotic automobile customizations. Under their mantra, "stock is boring," the team at GT Auto Concepts set out to turn heads with the GT-R. The company serves many clients from their Redwood City, CA headquarters, and employs Xpel Technologies-certified installers skilled in the installation of AERO™ Advanced Paint Technology and Xpel paint protection film.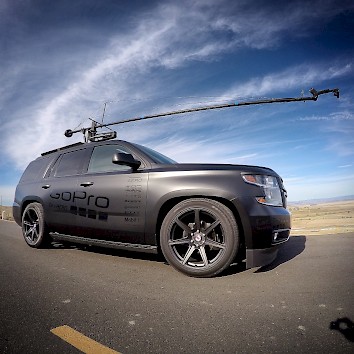 AERO™ Advanced Paint Technology was also featured on the Chevrolet Tahoe of Tyler McQuarrie Racing (TMR). The TMR Tahoe is adorned with a boom-mounted camera system for GoPro HERO cameras and DSLRs, and serves to capture high intensity video for motorsports, automotive, and action sports videographers. The consumer-market iteration of AERO™ Advanced Technology sold through XPEL Technologies as ULTIMATE Colour was Tyler McQuarrie's first option. The Matte Black finish offered by AERO™ and XPEL gave Tyler the look he wanted, with the low gloss levels needed for glare-free video production.
To learn more about how AERO™ Advanced Paint Technology can enhance the look of your vehicle, while increasing durability and reducing weight, please visit www.rethinkpaint.com.
About AERO™ Advanced Paint Technology
AERO™ Paint Technology is a division of entrotech, inc. that designs, manufactures, and sells a series of advanced, film-based paint appliques to the aerospace, automotive, and commercial trucking industries. Established in 1999, entrotech is a chemical technology business that designs, develops and commercializes innovative materials used in many of the world's most advanced products. The company's focus is on life sciences, data storage, display enhancement and protection, green paint applique films and premium carbon fiber products.  With executive offices and laboratories in San Francisco, the company has manufacturing and development facilities in Columbus, Ohio. For more information, visit: www.entrotech.com.
About XPEL Technologies Corp.
XPEL is the leading supplier of automotive paint and headlamp protection films with over 70,000 vehicle-specific applications and a worldwide network of trained installers. Additional information can be found on the company's website at www.XPEL.com.
About GT Auto Concepts
GT Auto Concepts is the San Francisco Bay Area's leading provider of a full range of premium automotive performance products, services, and technical expertise. Additional information can be found on the company's website at www.gtautoconcepts.com
About Tyler McQuarrie Racing
Tyler McQuarrie started racing karts at age 14, and moved up to formula cars later in his younger years. He went on to win two championships in the US, then spent a season racing Formula Vauxhalls in Europe, and returned to the states to run in the USF2000 Series. McQuarrie raced Porsches in the American Le Mans series, which led to NASCAR Southwest Tour, Sprint cars, Touring cars and Drifting.
McQuarrie has been an instructor at Jim Russell Racing School since 1997. There he has coached thousands of drivers and many pro drivers, such as: Bill Elliott, Scott Speed, Regan Smith, and Scott Riggs. In 2012 McQuarrie became an Owner/Driver of his own team in Formula Drift.