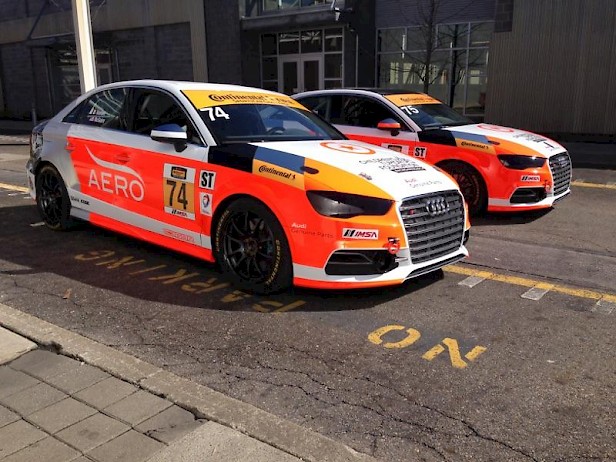 03/20/2015
AERO™ Advanced Paint Technology team with IERUS Technologies, Inc. for Low Profile Antenna Technology
HUNTSVILLE, Alabama (March 20, 2015) – Antenna technology in motorsports has remained largely unchanged for many years. In many ways, it has actually hindered the performance of the vehicles from which they so outlandishly extend. At AERO™ Advanced Paint Technology, the foundation was already in place to affect a change in the antenna marketplace. With the help of electromagnetic technology and design innovators, IERUS Technologies, Inc., a new, patent pending embedded antenna for the motorsports world was born.
What might not be apparent from photos and television are the numerous communication systems required onboard. These include voice communications, telemetry data, GPS, track conditions, series radio, and often even a radio just for the rain light. All of these systems require their own antenna, which subsequently adds both weight and aerodynamic drag.
The IERUS Technologies, Inc. solution is a highly engineered, flexible, antenna system that is ultra-thin. What makes the performance of this antenna even more remarkable is ability to transmit with consistent parity over large distances while installed conformally over metal surfaces. IERUS's unique ability to perform coupled design of both substrate materials and antenna elements allows for an antenna system that is thin enough to be integrated into AERO™ film-based paint applique, can be installed over a conductive surface, and can operate effectively at ultra-high frequencies.
IERUS perfected their technology from years spent engineering and designing products in the electromagnetic spectrum for the aerospace and defense industry. Their highly capable team developed their expertise designing solutions for ballistic missiles, seekers, stealth technologies, space systems, and advanced defense communications.
The partnership of IERUS Technologies and AERO™ Advanced Paint Technology brought together the lightweight, highly durable paint system with a performance enhancing antenna system. The result is an aerodynamic antenna system that is completely integrated in AERO™ film-based paint appliques! By "embedding" the antenna in the paint, the technology gives the user a streamlined antenna solution that can be mounted invisibly anywhere on the car, while enhancing transmissivity throughout the track.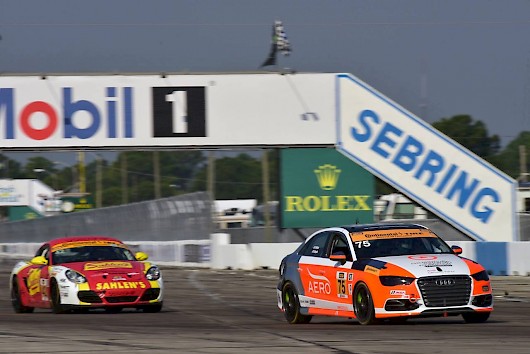 The marriage of the two technologies has other applications outside of motorsports, including law enforcement, defense, and general automotive. IERUS's Executive Vice President, Michael Roesch, stated, "The technology developed is the result of a strong partnership between the companies working towards a mutual goal. IERUS is extremely excited to now be a part of the development and delivery of solutions to the motorsports community."
Jim McGuire, CEO of AERO™ Advanced Paint Technology parent company, entrotech, inc., conducted a successful test of the embedded antenna technology with the Compass360 Racing Audi S3 at Sebring International Raceway on March 18. After two successful IndyCar tests in 2014, McGuire raced the low profile antenna in practice to validate the capability and performance. Where other antenna systems struggle to achieve good clarity across the entire circuit, McGuire exclaimed that the antenna was "awesome." He continued to state that the antenna gave them significantly better performance and clarity around the entire Sebring circuit with only handheld radio units.
The AERO™ Advanced Paint Technology and IERUS Technologies partnership will continue to push the envelop to enhance performance in motorsports and beyond.
About IERUS Technologies, Inc.
IERUS Technologies Inc. is a HUBZone certified company with an AS9100 certified quality management system based in Huntsville, AL. As Lockheed-Martin Corporation protégé company, IERUS provides engineering, program management, and analysis support in the defense and commercial sectors. IERUS specializes in radio frequency spectrum design and analysis, global optimization based design, hardware/software acceleration techniques, missile analysis, directed energy, and optics. For more information visit www.IERUStech.com
About AERO™ Advanced Paint Technology
AERO™ Advanced Paint Technology is a division of entrotech, inc. that designs, manufactures, and sells a series of advanced, film-based paint appliques to the aerospace, automotive, and commercial trucking industries. Established in 1999, entrotech has commercialized numerous products across various markets and industries. The company creates game changing technologies by designing and developing new advanced materials one molecule at a time. Along with executive offices and laboratories in San Francisco, the company has manufacturing and development facilities in Columbus, Ohio. For more information, visit: www.entrotech.com