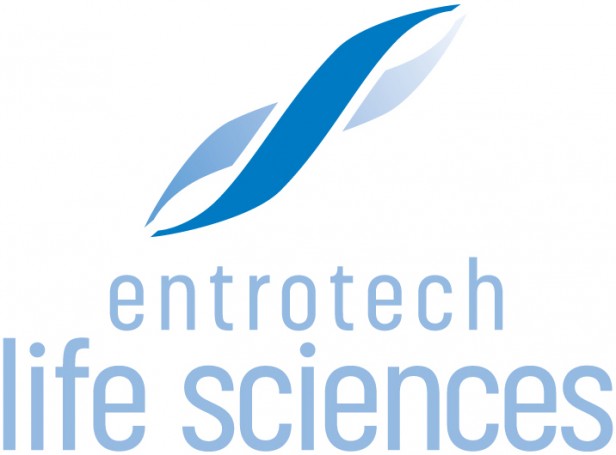 01/25/2016
ChloraDerm™ Antimicrobial Transparent Film Dressing receives FDA Clearance for 7-Day Catheter Site Protection Against MRSA and other Infection-Related Organisms
SAN FRANCISCO, California (Jan. 25, 2016 /PRNewswire) -- entrotech life sciences (ELS) (www.entrotechlifesciences.com) announced it received FDA 510k clearance of ChloraDerm™, the first and only edge-to-edge transparent film dressing to provide The Chlorhexidine Advantage™; a safe, colophony-and acid-free chlorhexidine matrix for wound and catheter site protection for up to seven days. Compared to common non-antimicrobial dressings ChloraDerm™ demonstrates substantially greater effectiveness against multi-drug-resistant organisms at one, three and seven days, without adding increased cost or complexity.

According to ELS CEO Jim McGuire, "entrotech exists to solve problems.  We are pushing the boundaries of infection prevention by delivering chlorhexidine to patients in ways previously thought impossible. Whether it is our lifesaving combat medical products or bedside nursing solutions, we discover new ways to save lives. ChloraDerm™ helps institutions achieve their goals of improving outcomes while lowering costs."
Central Line Associated Bloodstream Infections (CLABSI) account for 40 percent of all healthcare associated infections, which afflict nearly 100,000 people per year. They can cause severe harm or death and cost more than $250M in patient treatment annually.  Microbial flora present on a patient's skin during the extended use of intravenous catheters can lead to the development of CLABSIs.  The 2011 CDC Guidelines for the Prevention of Intravascular Catheter-Related Infections recommend Chlorhexidine impregnated dressings be considered for Central Venous Catheter CLABSI prevention.[1]
entrotech life sciences pioneered a platform technology that eluded researchers for the past 20 years through the invention of a patent-pending, non-thermal process for creating polymeric materials containing active chlorhexidine, the most effective antimicrobial for reducing skin bacteria. ChloraDerm™ is used to cover and secure primary dressings and protect wounds caused by percutaneous medical devices and achieves >4 Log10 reduction against yeasts and gram positive and negative bacteria, including multiple drug-resistant organisms (MRSA, MRSE, VRE, MDR). 
about entrotech life sciences
entrotech life sciences (ELS | San Francisco, CA) helps healthcare professionals committed to infection prevention rethink what is possible in protection of catheter and surgical patients. ELS is affiliated with Entrogroup (est. 1999), an organization focused on inventing advanced lifesaving combat military products, smart device protectors, and environmentally-friendly, lightweight paint appliques. ChloraDerm™, the flagship ELS innovation, is the first and only transparent thin-film dressing with edge-to-edge Chlorhexidine, preventing bacterial regrowth with broad spectrum antimicrobial protection at the wound, primary dressing, or percutaneous medical device site for seven days. Visit: www.entrotechlifesciences.com/chloraderm
[1] http://www.cdc.gov/hicpac/BSI/02-bsi-summary-of-recommendations-2011.html#sp
SOURCE entrotech life sciences
RELATED LINKS
http://www.entrotechlifesciences.com