02/01/2016
AERO™ Partners with 2015 champion Corey Fergus for Pirelli World Challenge Championship
COLUMBUS, Ohio (February 1, 2016) – Corey Fergus began his Pirelli World Challenge career in 2015 driving a TC class-spec Porsche Cayman painted with the world's most durable film-based paint: AERO™ Advanced Paint Technology. In his rookie year with the series, he drove his Cayman to first place overall! AERO™ Advanced Paint Technology will continue supporting Fergus in 2016, but with some new machinery.
Last month, Fergus announced that he will be piloting a Porsche GT3 Cup Car provided by Byers Imports. By using AERO™ film-based paint applique, the team will be able to tune the weight distribution of the paint, taking lap time-sapping weight off the top of the car.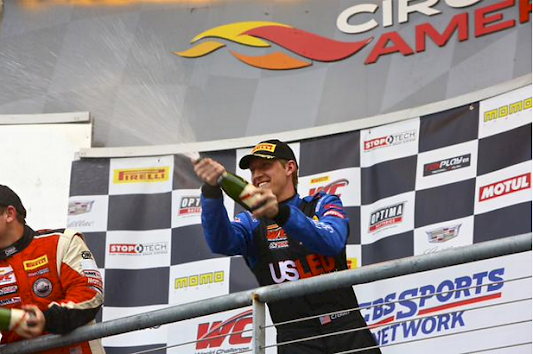 While the livery scheme of his new GT3 Cup Car is still being developed, with the help of veteran designer Andy Blackmore, the aesthetic value of AERO™ Advanced Paint Technology will be just as prevalent as last season's Retinal Burn Red, Alpine White, and Cobalt Blue racing livery. AERO engineers are able to achieve such high gloss levels and color depth because AERO is actuallyhigh-end automotive paint! However, by restructuring it from the molecule up in our ultra-durable urethane-based film, AERO™ Advanced Paint Technology offers the same automotive finish with less paint, in a significantly more durable package. The result? Better protection for the paint, better protection for the car, lighter weight, enhanced look.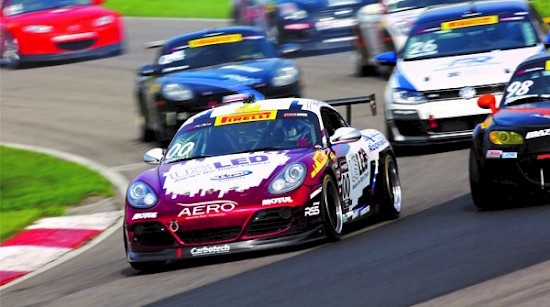 "I'm beyond excited to have our car painted again this year with AERO," Fergus stated. The product is amazing. Not only does it look fast but it's more aerodynamic, protects the car, and cleans easier than paint." AERO™ film-based paint appliques are designed to hold up against the harshest chemicals and regents, which allow it to be quickly cleaned with nearly any product available in the paddock. "Our paint scheme got a lot of attention last year and thanks to AERO, we're looking forward to continuing our partnership again into 2016. It will be the best looking car on track and hopefully the fastest too!"
The AERO™ Advanced Paint Technology team is happy to be partnered with Pirelli World Challenge champion Corey Fergus for the 2016 season. You can follow Fergus on Facebook and@CorwinFergus on Twitter.
About Corey Fergus
Corey was born into a family steeped in auto racing. His great grandfather crewed for Eddie Rickenbacker at the Indianapolis 500. His paternal grandfather and great uncle were automobile dealers and began racing in the 1950's, his uncle is an award winning crew chief, and his father is a thirteen time National Champion. Corey is a true "track brat," having attended his first race at 8 days old and being trackside at races throughout North America and LeMans his entire life.
Corey finally began his own racing career at the age of 13, autocrossing in SCCA's Formula Junior Karting program. He started with a bang, winning his first event, the season's regional championship, and being selected from all competitors, young and old, as the Solo II Rookie of the Year. In his second year of karting, he won the prestigious Governor's Cup, against over 160 drivers, becoming the first person under 16 in history to win this event. Success continued. After turning 16 and having won the regional karting championship each year of competition, Corey earned the opportunity to try his hand at road racing. Again, he came out of the gate flying, earning the Outstanding Achievement Award at his driver's school and going on to win the SCCA Sports 2000 Regional Series Championship, the Sports 2000 Mid-Ohio Cup Championship and was selected, from the entire division, as the SCCA Central Division's Novice of the Year in his first year of road racing. Consistent wins, pole positions, and track records have followed in the SCCA Sports 2000 National Series. Corey is currently racing in the Pirelli World Challenge.
About Andy Blackmore Design
Andy Blackmore Design offers a full range of Creative Services for the Automotive and Motorsport Industry, with a range of exciting Livery design, Aftermarket and Racecar Vehicle Styling and builds, Team Identity, Clothing, Marketing aids, Sponsorship documents and Hero Cards. Mr. Blackmore has over 25 years' experience designing cars and liveries for companies such as McLaren and Electronic Arts.
About AERO™ Advanced Paint Technology
AERO™ Advanced Paint Technology is a division of entrotech, inc. that designs, manufactures, and sells a series of patented, film-based paint appliques to the aerospace, automotive, and commercial trucking industries. Established in 1999, entrotech is a chemical technology business that designs, develops, and commercializes innovative materials used in many of the world's most advanced products. The company's focus is on life sciences, data storage, display enhancement and protection, green paint applique films, and premium carbon fiber products. With executive offices and laboratories in San Francisco, the company has manufacturing and development facilities in Columbus, Ohio. For more information, visit: www.entrotech.com