06/13/2019
AERO Sustainable Paint Technology Ready for Le Mans after Podium Result in Texas
LE MANS, France (June 13, 2019) The 2019 motorsports season is in full swing, and with every outing seems to come a new chapter of success for AERO Sustainable Paint Technology teams across the globe.
IndyCar staged its first oval outing since the Indianapolis 500 last weekend, as the series raced under the lights at Texas Motor Speedway on Saturday night.
The track, which saw Graham Rahal take a dramatic 2016 Texas victory by just .0008-seconds in his AERO-liveried machine, was once again the site of a big weekend for the Rahal organization. RLL teammate Takuma Sato started the DXC Technology 600 from the pole and led the race early, before a pit lane incident lead to a 15th-place result.
But the second bullet came through as Rahal scored his first podium finish of the 2019 season in the No. 15 Fleet Cost & Care IndyCar after starting ninth to finish third. The event marked Rahal's 12thrace at the 1.5-mile oval where he led laps as he made his way through the field.
"It was a great run by the Fleet Cost & Care guys," said Rahal. "We raced smart tonight and made moves when we had to. The guys did a hell of a job in the pits and made our lives easier. I'm proud of this organization. We've kept our heads down and finally I think we've been rewarded a little bit."
The focus of the racing world now moves to the global stage of Le Mans this weekend, as the diminutive French village once again plays host to the largest race in motorsport for the 87thtime. Teams worldwide have assembled in anticipation of the intense twice around the clock race on the iconic 8.5-mile Circuit de la Sarthe in the French countryside.
The event itself has grown to include the Michelin Le Mans Cup, which features a huge two-class (GT3 and LMP3) field that takes to the same track for two 55-minute Road to Le Mans races in the build up to the massive Le Mans 24 event on the full Circuit de la Sarthe.
On such a big, bad fast, and long track, the little differences really add up over the course of eight miles, so it is not surprising that AERO Paint will be well represented in the Michelin Le Mans Cup LMP3 category with six total entries.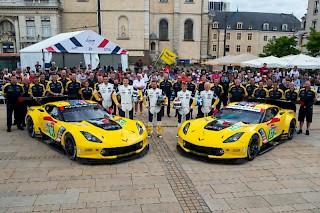 AERO Sustainable Paint Technology will be well represented in the Michelin Le Mans Cup LMP3 category with seven total entries, all vying for victory bragging rights. The Anglo-American, United Autosports effort will field four entries. The fast and familiar pairing of Sebring round winners Jim McGuire and Matt Bell will pair in the No. 22 AERO LMP3, while Garrett Grist and Rob Hodes will drive the No. 23 LMP3, Najaf Hussain and Wayne Boyd will combine in the No. 24 LMP3, and the No. 27 LMP3 entry is set to be shared by Patrice Lafargue and Erik Maris.
All four entries carry not only AERO branding, but more importantly the technology itself as the powerhouse squad looks to add to its bulging trophy case.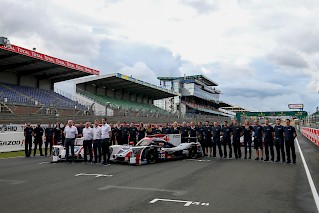 But other teams have got the memo too, as Nielsen Racing's three entries in LMP3 (No. 2 Anthony Wells and Colin Noble, No. 17 Bonamy Grimes and Ivor Dunbar No. 18 Nobuya Yamanaka and James Littlejohn) will all carry AERO for the double-race weekend. Interestingly, the Nielsen squad will utilize both the Ligier and Norma platforms.  Longtime Simraceway instructor Nicolas Rondet will be joined by John Schauerman in the No. 4 Cool Racing Ligier, which will also carry the AERO advantage along with the No. 96 Ligier and No. 74 Cool Racing Ligier entries.
The first race of the weekend for the Michelin Le Mans cup will get underway on Thursday, June 13that 5:30am local time with the second race on Saturday, June 15that 11:30am local.
The main 24 Hours of Le Mans event will see four classes of 62 cars compete for the coveted title. One differentiating factor for several teams will be the use of AERO Sustainable Paint Technology.
One mega name to follow will be Corvette Racing, which in its 20th attempt at Le Mans will look for its ninth victory in the event with the iconic yellow AERO-liveried  Chevrolet Corvette C7.R GTE-Pro entries of Mike Rockenfeller, Antonio Garcia, and Jan Magnussen (No. 63) and Oliver Gavin, Tommy Milner, and Marcel Fassler (No. 64). The team paced the Test Day earlier this month, and has high hopes ahead of the French classic.
"We've not had a win in our Corvette since 2017," said Garcia. "It's been too long.   I really want to win it again. Preparation is always a good thing, and doing both the WEC and IMSA races at Sebring was a good step. There were some revelations of how we can execute at Le Mans instead of having to remember everything from a year ago. Everyone is well-prepared.   Le Mans is unique. Once you win there, you want to do it again. The feeling of going across the line or when you are on the podium is so intense… it's one of the best feelings you can ever have. All you want to do is get back up there."
The championship winning United Autosports will be making a return to Le Mans after receiving one entry for its European Le Mans Cup Championship victory.
The No. 22 Ligier JSP217 of Phil Hanson, Filipe Albuquerque and Paul Di Resta will join forces one again after competing together in European Le Mans Cup competition.
"It's great to be around Le Mans," said Albuquerque, winner of IMSA's Long Beach race earlier this year. "It's a street course with such high speeds that it's always nice. It's a great track. I enjoyed the car during the test and we have to adapt to the conditions as the track is always changing but we managed to be P1 in the morning. We are pretty confident for the race., I think everyone is very close. We can play the game as we are pretty competitive so let's wait and see what happens."
The No. 32 United Autosports LMP2 of Ryan Cullen, Alex Brundle and Will Owen will be challenging for the win later this week as well. Brundle, Owen and Cullen have most recently scored an ELMS podium finish in Monza, the second round of ELMS competition.
In addition to United Autosports, Algarve Pro Racing will be representing AERO Sustainable Paint Technology in the 24 Hours of Le Mans with its stunning blue LMP2 machine driven by David Zollinger, Andrew Pizzitola and American LMP3 champion John Falb. The Ferrari contingent will also be beautifully represented by the Scuderia Corsa entry of Cooper MacNeil, Toni Vilander, and Robert Smith in another WeatherTech AERO-liveried entry.
Qualifications for the 24 Hours of Le Mans will begin on Wednesday, June 12thwith Qualifying 1 at 3:45pm ET. Qualifying 2 will get be on Thursday, June 13that 12:45pm ET and final the final qualifying session will be Thursday, June 13that 3:45pm ET.
Race coverage will be on the MotorTrend App or MotorTrend TV with the green flag set to drop at 9:00am ET on Saturday, June 15th.