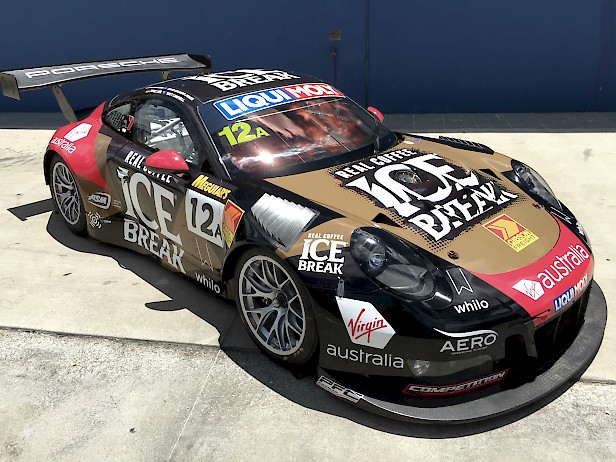 02/01/2017
Rolex 24 at Daytona Tequila Patron Cup Win for AERO™ Advanced Paint Technology as Focus Moves Down Under
Bathurst, Australia (1 February  2017) - When you have a ground-breaking technology, there is nothing better than proving yourself in the heat of competition. 
After one AERO™ Advanced Paint Technology partner team raced into the winner circle at Daytona International Speedway last weekend, another star-studded squad will head to the other side of the world as the innovative product makes its competition debut in the Liqui-Moly Bathurst 12 Hour with Competition Motorsports. 
Last weekend's Rolex 24 At Daytona launched the North American racing season, and it also marked the first-ever IMSA GTD-class event for long time AERO™ Advanced Paint Technology partner team Michael Shank Racing with Curb/Agajanian. 
Despite having an all-new car and racing in an all-new class, the team showed its strength by leading 171 laps and winning the Daytona round of the Tequila Patron North American Endurance Cup to kick off the year. Drivers Jeff Segal, Ozz Negri, Tom Dyer, and Ryan Hunter-Reay took to the fabled Daytona International Speedway podium after delivering a strong performance in a wide range of conditions in the No. 86 Michael Shank Racing with Curb/Agajanian Acura NSX GT3.
With the 55th running of the Rolex 24 in the books, the attention will turn to another event that is rapidly growing in international stature—and AERO™ Advanced Paint Technology will be there. The Mount Panorama Circuit is some three hours from Sydney, Australia, and plays host to the Liqui-Moly 12 Hours of Bathurst. 
With the adaptation of GT3 regulations six years ago, the race has burst into international prominence, making the event a "must" for factory drivers and teams alike. The race starts at 5:45 AM local and runs in the dark for nearly an hour before the sun comes up.
This year's event has attracted another banner entry, including an American-Australian collaboration that will carry the incredible colors for AERO™ Advanced Paint Technology. Los Angeles-based Competition Motorsport will team with Australian Porsche specialist team McElrea Racing and Porsche Motorsport North America (PMNA) along with sponsors Ice Break Iced Coffee and Virgin Australia.
Young Australian Porsche Junior racer Matt Campbell will share the driving duties with 2016 24 Hours of Le Mans overall winner Marc Lieb, and American Porsche phenom Patrick Long as well as David Calvert-Jones, who is making his fifth start in the 12 Hour. 
AERO™ Advanced Paint Technology provides a strong, light, aerodynamic and stunningly bright outer layer for any application that it is used for. The technology has allowed AERO™ Advanced Paint Technology's Australian retailer - BRMD - to effortlessly embed the brilliant design that will take to the Bathurst track this weekend. BRMD's Managing Director, Brett Rogers was overwhelmed with the ease of use when applying AERO Paint to the Competition Motorsport Porsche. 
"AERO film-based paint is incredibly lightweight and very malleable - it applies far easier than vinyl and given its ease of use saved many hours during the application process," said Rogers.  "The end product is one of the best I've seen - it has a beautiful gloss finish and the Ice Break/Virgin Australia Porsche will really stand out on track this weekend. It easily applies to carbon parts which most vinyls will not and the process of embedding logos and designs into AERO Paint was again, an easy, simple process. 
"Most importantly though is that the application of AERO has a huge benefit to the environment which means switching to AERO Advanced Paint Technology delivers strong, long term benefits regardless of whether it is aviation, earthmoving, mining or automotive applications." 
President and CEO of Porsche Motorsport North America Jens Walther said he is excited about the caliber of talent behind the wheel of the Porsche 911 GT3 R and the opportunity to put together a competitive entry.
"This is the fourth time that CJ (Calvert-Jones) is racing a Porsche at Bathurst," said Walther. "We are very happy that Marc Lieb joins CJ and Patrick, who had a strong showing in 2015 and gained invaluable experience for this year's race at the iconic Mount Panorama circuit. The lineup and the team make for a strong entry and definitely one to watch."
International viewers can stream the race live here: http://www.bathurst12hour.com.au/streams-tv/international-streaming/