06/01/2015
Weekend Roundup, June 1, 2015
It was a fantastic weekend for AERO™ Advanced Paint Technology drivers competing in Detroit, MI. The Chevrolet Dual in Detroit presented by Quicken Loans brought a double header to the IndyCar championship, while the Chevrolet Sports Car Classic brought in fans of the IMSA Tudor United Sports Car Series.
In the IndyCar Series, Graham Rahal continued his grab for podium finishes for Rahal Letterman Lanigan Racing, achieving a third place finish for the second race of the weekend. The points obtained in Michigan's Motor City allowed Graham to maintain his fifth place position in championship points, as well as his spot as the best Honda-powered car. Graham commented on the race: "Obviously we would like to be winning but that's three podiums in the last four road and street course races, and three in the past five overall for [the team] so I'm pretty proud of where we are at." Graham's No. 15 Honda is painted with AERO™ Rossa Italia. Unfortunately, he suffered contact in the first race of the weekend and was not able to finish the race.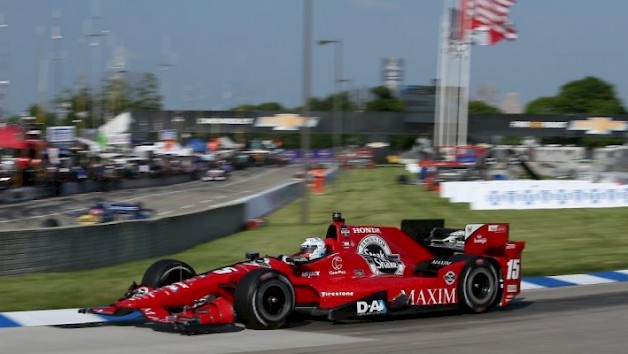 In the other paddock, the Michael Shank Racing Honda-powered Ligier with an ultra-durable AERO™ Advanced Paint Technology crossed the finish line in second position, withOzz Negri at the helm. John Pew started the race from sixth and maintained good pace, while Negri managed to take second on the last lap, and fend off a one-two finish for the Action Express Team.  "Two podiums in a row now is just fantastic," team owner Michael Shank stated. "I'm just so proud of everyone: Ozz, John, the guys." It was a well fought race for the team, and the lightweight AERO™ livery did its job protecting the car for the 100 minute race.
Multiple podiums in consecutive race weekends is a great step forward for AERO™ Advanced Paint Technology. CEO Jim McGuire stated "it's great to see these drivers improving over the season, it's a big plus for AERO." He went on, "our job is to make sure the drivers are getting every advantage to shave time off their laps, and give teams a competitive advantage off the track with a great looking platform for sponsors."
See the action continue with the IndyCar Firestone 600 in Texas, and the IMSA Sahlen's Six Hours of the Glen in New York.