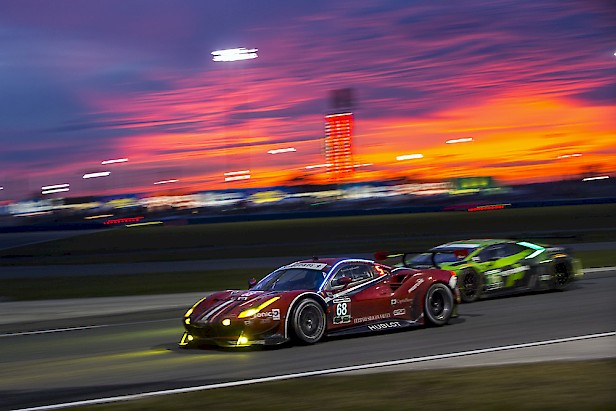 02/02/2016
Scuderia Corsa Leads for Ferrari at Daytona
Team enjoys strong start to GT-LeMans North American Endurance Cup and GT-Daytona championship campaigns
This press release appears courtesy of Scuderia Corsa
DAYTONA BEACH, Florida (February 2, 2016)—It took twenty-four hours of teamwork, but the drivers and crew of Scuderia Corsa prevailed to finish in fourth position in the GT-LeMans class at this weekend's 24 Hours of Daytona.
The result was especially gratifying for the team as the race not only marked the first competition for Scuderia Corsa in the GT-LeMans class, but was also the debut race for the new Ferrari 488 GTE. Drivers Alessandro Pier Guidi, Alexandre Premat, Memo Rojas and Daniel Serra gave the new car a fitting result – a result earned after the team overcame losing the lead lap in the early stages of the race due to a penalty.
With the focus of Scuderia Corsa's GT-LeMans program being the North American Endurance Cup, the team's strategy focused on running near the front of the field at the end of each six-hour championship segment. Throughout the second half of the race, the No. 68 488 GTE emerged as a threat to the factory teams for the victory before the car settled into fourth position after the final pit stops. As a result of that effort, Scuderia Corsa is fifth in points in the North American Endurance Cup, two points behind a four-way championship lead.
"For the first time with Scuderia Corsa, and in my first time in Daytona, fourth place is pretty amazing," said Premat. "The crew and my teammates Memo, Daniel and Alessandro did an amazing job and we pushed as hard as we could to be on the podium. The new Ferrari 488 GTE was excellent. To finish the 24 hours of Daytona, especially in its first time, is a great achievement and we should all be happy. The staff did an amazing job and I am very grateful to the team."
"We did everything to deliver a great finish for the team," said Pier Guidi.  "Because the team did everything that they could to bring a great result for Scuderia Corsa and for Ferrari, and we tried as hard as possible to repay them for their effort. The 488 GTE is brand new but Ferrari did a great job with this turbocharged car – it is very quick. I have to say thanks to Scuderia Corsa to give me the possibility to drive this fantastic car, and we are already looking forward to Sebring."
In the GT-Daytona class, Scuderia Corsa's team of Christina Nielsen, Alessandro Balzan, Robert Renauer and Jeff Segal drove a consistent, measured race to finish in seventh position in the GT-Daytona class. Starting from eleventh position, the No. 63 458 Italia remained a fixture within the top ten throughout the race and contended for the lead throughout the night time hours. The team rebounded from mid-race repairs after contact, enabling the Ferrari to score solid championship points.
With an eye on the long season, Nielsen and Balzan were upbeat with their result and the start of their championship campaign.
"This was my best result at Daytona so far, so I am pretty happy with our result," said Nielsen. "Of course as a driver you are never really happy, but stepping back and looking at everything we did, I can't wait to get back with the team for Sebring. Our engineer, Joe LaJoie, said something that was right – as a group we are going to meet challenges, but the question is when and how do we handle that? I think as a team we handled our race really well, and we had a good, steady race."
"Finishing a 24-hour race is never easy, so we have already hit a very good target," said Balzan. We got some very good points for the championship which was important, so this was a good start. A top-five was really possible for the 458, but now it is time to think about Sebring. We now have a weekend with Christina and the team all working together, and we are excited to race the new 488."
Scuderia Corsa Ferraris also competed in the pair of Ferrari Challenge races held at Daytona. Martin Fuentes engaged in a green flag to checkered flag battle for the overall victory in Sunday's race, before finishing in third position. His teammates Darren Enenstein and Neil Langberg successfully completed their first Ferrari Challenge races with Enenstein recording a best result of 12th and Langberg a best result of 14th in the Coppa Shell class.
"This weekend at Daytona represented a complete team effort by Scuderia Corsa," said Giacomo Mattioli, team owner of Scuderia Corsa. "In a 24-hour race you can expect to face many challenges, and we definitely had our share with both our no. 68 and no. 63 cars. The crew was faultless, and our drivers were disciplined and intelligent in their approach to the race. I can say great things about each one of them. In GT-Daytona, we aimed to defend our championship , but I think we were limited by the Balance of Performances adjustments. In GT-LeMans, we were contenders and you can't ask much more than that for a new program with a brand new car"
"It was a very positive week for us in Daytona with the debut of the 488 GTE , as well as beginning our season with Christina and Alessandro in GT-Daytona and the podium of Martin while graduating Darren and Neil from our Driver Development Program to their first Ferrari Challenge races"
The next round of the IMSA WeatherTech SportsCar Championship will be the 12 Hours of Sebring on March 16-19 at Sebring International Raceway in Sebring, Florida.

About Scuderia Corsa
2015 24Hours of Le Mans Podium, 2015 IMSA GTD and 2013 Grand-AM Rolex GT championship-winning team Scuderia Corsa was founded in 2013 by Giacomo Mattioli and Art Zafiropoulo. 
Follow Scuderia Corsa on Twitter @Scuderia_Corsa, on Facebook at Scuderia Corsa, Instagram at  #Scuderiacorsaferrari and ScuderiaCorsa.com
Team Sponsors:
Ferrari Beverly Hills / Los Angeles / Silicon Valley  / South Bay - North America's premiere Ferrari dealership group specializing in new and pre-owned sales, Classiche designation work, collision repair and factory trained service and original parts. CapitalSource is a division of Pacific Western Bank, a Los Angeles-based commercial bank with over $21 billion in assets and 80 full-service branches. CapitalSource makes commercial loans to small and middle-market businesses nationwide. Pacific Western Bank is a wholly-owned subsidiary of PacWest Bancorp (NASDAQ:PACW).
Ferrari Palm Beach - Providing the exclusive Palm Beach market with a premium inventory of new and pre-owned Ferraris, state-of-the-art facilities and technicians for expert maintenance and repair. Wide World Ferrari - Located in Spring Valley, New York, offering Ferrari customers a premium selection of new and pre-owned Ferraris, expert authorized service and exclusive Ferrari certified body repair. Zonin Prosecco -  Zonini1821's flagship wine, Zonin Prosecco is a lively, sparkling wine that is essential to having fun Italian-style. It is not just a sparkling wine, but a wine that sparkles.  Hublot - A champion of innovation, Hublot revolutionized the watch industry with the introduction of the Big Bang, a multiple award winning timepiece created using a combination of precious metals with rubber. Since then, the Swiss brand has become universally known for the concept, "Art of Fusion." From in-house watch complications to world-class collaborations such as Ferrari and the Los Angeles Lakers, Hublot is constantly evolving and looking to the future. Passtime - Is a leading designer, manufacturer and distributor of wireless GPS telematics devices for the global automotive industry in the vehicle finance and fleet transportation sectors offering a web-based software portal with a complete end-to-end software solution designed specifically for the automotive industry. Ultratech - A pioneer of laser processing, Ultratech designs, manufactures and markets photolithography and laser processing equipment. SONIC Tools - SONIC Tools is the North American subsidiary of Sonic Equipment, the world's market leader in premium hand tools and tool box systems for both commercial and consumer use. The company's mission is to elevate efficiency in the professional workshop through its premium hand tools and unique tool organization solutions. Sonic Tools' precision-crafted tools, toolboxes and wall systems are found in the world's most progressive automotive enterprises, and personal garages.
Technical Suppliers
Motegi Racing - through technical partnerships with leading professional racing teams, Motegi Racing Competition and High Performance Tuning wheels are designed and engineered for performance. Motegi Racing is a Wheel Pros brand. Wheel Pros products are sold worldwide in more than 20 countries on four continents and through a U.S. network of more than 10,000 active dealers.  Sabelt - leading manufacturer of seat belts and safety harnesses for production and racings cars, race suits, shoes and helmets, carbon seats for automobiles and child restraint systems worldwide. AERO Advanced Paint Technology is the world's only ultra-durable, film-based paint appliqué.  AERO is 50 percent lighter than traditional paint, has 100x superior durability, is strip-able, and has virtually zero carbon footprint.  AERO the future of paint. 
AllState - Allstate Roadside Services strives to provide the industry's best roadside experience for our partners, their customers and our service providers.
For Media Inquiries, please contact:
Email: press.racing@ferraribeverlyhills.com
Picture Credits: Bob Chapman, Autosport Image