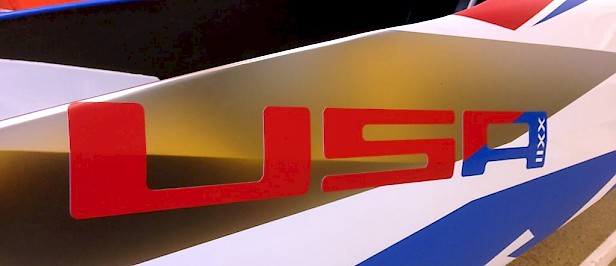 02/19/2015
AERO™ Advanced Paint Technology Continue Partnership of USA Bobsled & Skeleton
LAKE PLACID, New York (February 19, 2015) – USA Bobsled & Skeleton (USABS) continue to trust AERO™ Advanced Paint Technology for their bobsled liveries. After a successful—indeed, record setting—2014 Olympic Games, Team USA continues to push for medals in both the two- and four-man World Cup competitions.
2015 marks the third year Team USA will be utilizing the lightweight performance of AERO™ Advanced Paint Technology. Former IndyCar champion Bobby Rahal first introduced the AERO team to the members of the USBSF in 2012 in an effort to help the men and women of USABS gain a competitive advantage across the board. Lightening the sleighs was an obvious performance objective, and consequently, the IndyCar boss sent USA Bobsled & Skeleton to AERO™ Advanced Paint Technology.
Photo courtesy of Charlie Booker
AERO™ Advanced Paint Technology is a lightweight paint applique film that saves approximately 50 percent of the weight compared to spray applied paints. The technology was developed for the aerospace industry to match the aesthetic value of spray applied paints, in terms of gloss levels and color depth, while saving weight caused by heavy primers, base coats, and clear coats, in a lightweight applique. Yet, the AERO™ Advanced Paint Technology engineers managed to engineer these performance gains, and also enhance durability through the use of self-healing, urethane-based materials, while maintaining greatly reduced weight.
Photo courtesy of Charlie Booker
The film-based paint system is also printable, giving customers like USABS the ability to embed graphics and sponsor logos directly into the paint. The advantage gained is increased aerodynamics, but also additional weight savings. The resulting liveries have a fantastic look, with both matte and gloss finishes.
Jim McGuire, president of AERO™ Advanced Paint Technology parent company entrotech, inc., stated that "the weight savings undoubtedly translates to better times on runs, without sacrificing appearance or durability." With 2015 marking the third year of partnership with AERO™ Advanced Paint Technology, McGuire says he is "excited to continue to support the athletes of Team USA, as a proud US-based global company."
Photo courtesy of Charlie Booker
"We are excited to once again be working with Entrotech," USABS CEO Darrin Steele said. "We were first introduced to the company by Bobby Rahal and he told us they used outstanding materials and did great work. They have exceeded our expectations and have been able to meet our very challenging timelines without fail. Entrotech simply rocks and we are fortunate to have them as a partner."
AERO™ Advanced Paint Technology can be seen on all the two- and four-man bobsleds throughout the 2015 winter season.
About USA Bobsled & Skeleton
The United States Bobsled and Skeleton Federation, based in Lake Placid, N.Y., is the national governing body for the sports of bobsled and skeleton in the United States. The USBSF would like to thank its sponsors, suppliers and contributors for their support: BMW of North America, Century 21 Real Estate, Under Armour, Kampgrounds of America, Boomerang Carnets, KBC Helmets, Classroom Champions, Aspen Institute's Project Play, Autism Speaks, Park City Lodging, Inc., EDAS/Ripxx, UberSense, Tesa Tape and Ferris Mfg. Corp. For more information, please visit the USABS website at http://bobsled.teamusa.org.
About AERO™ Advanced Paint Technology
AERO™ Advanced Paint Technology is a division of entrotech, inc. that designs, manufactures, and sells a series of advanced, film-based paint appliques to the aerospace, automotive, and commercial trucking industries. Established in 1999, entrotech is a chemical technology business that designs, develops and commercializes innovative materials used in many of the world's most advanced products. The company's focus is on life sciences, data storage, display enhancement and protection, green paint applique films, and premium carbon fiber products.  With executive offices and laboratories in San Francisco, the company has manufacturing and development facilities in Columbus, Ohio. For more information, visit: www.entrotech.com