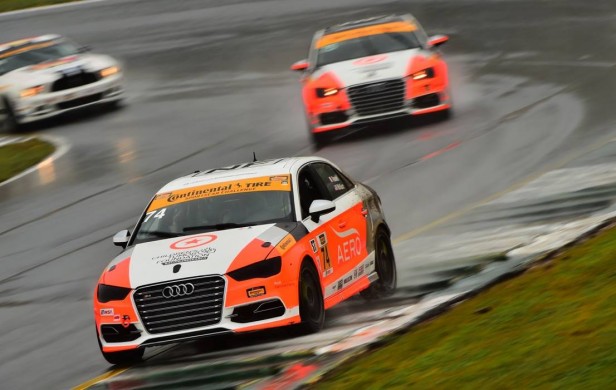 12/21/2015
Compass360 Racing returns with two Audi S3s for the 2016 Continental Tire SportsCar Challenge ST-Class
This article originall appears on c360r.com 
MULTIPLE-CHAMPIONSHIP-WINNING TEAM RETURNS TO CTSC-ST FOR 13TH SEASON
TORONTO, Ontario (December 21, 2015) - Long-time Continental Tire SportsCar Challenge team Compass360 Racing (C360R) today announced the return of its popular Audi S3's to Continental Tire Sportscar Challenge competition for the 2016 season. This marks the team's 13th consecutive year in the IMSA-sanctioned series.
"We were excited to debut the new Audi S3 in CTSC last season, with our crew and drivers working tirelessly to develop the car over the course of 2015," remarked Team Principal Karl Thomson. "This car introduced new technology to the Street Tuner class, including the S-tronic gearbox and Quattro all-wheel drive, and it was an interesting challenge to work through the electronics of a road-going car to tune them for racing purposes."
The team's efforts paid off, with the season-long duo of Paul Holton and Kyle Gimple taking the car's first win at the season finale at Road Atlanta. "The tricky, wet conditions helped us, for sure, but we were also quick in the dry, so we're really looking forward to getting the new season under way on the high banks of Daytona," noted Gimple.
Jim McGuire and Nico Rondet will be back in the No.74 Audi, hoping to build on their solid performance at Road Atlanta, which saw both drivers move through the field during their stints, with Rondet in fifth position before a last-lap incident dropped them to 10th.
Gimple will be joined in the No.75 S3 by CTSC Rookie Roy Block, who moves up from NASA and F3 ranks. "Having three of last season's drivers returning is great for continuity as we continue to develop the Audis," said Technical Director Ray Lee. "We're also excited to have Roy on board, who will be working with Kyle as his coach."
Both cars will feature liveries created using AERO™ Advanced Paint Technology, continuing the technical partnership that began last year. "AERO is an incredible new way to apply paint, and the finished product looks just incredible," enthused Thomson. "Last season all of our Audis, our S3's, TT RS and R8 LMS, were all painted with AERO and were fan favouites."
The squad will, as they have since 2010, support the Children's Tumor Foundation's Racing4Research program, by carrying the CTF logo on both cars and serving as one of the featured paddocks on the charity's tour at each race.
"We're looking forward to a great season," said Thomson. "Thanks to the folks at Audi Genuine Parts and Audi Tire Center, and to all our development partners, we expect to see our S3's at the front of the pack in 2016."
The team will be at Daytona International Speedway for the ROAR, January 8-10 in preparation for the season opener, also at Daytona Jan 27-29.
Source: Compass360 Racing