05/02/2016
Michael Shank Racing wins at Mazda Raceway Laguna Seca
Michael Shank Racing wins at Mazda Raceway Laguna Seca
MONTEREY, California (May 2, 2016) - Michael Shank Racing scored its first victory of the 2016 WeatherTech SportsCar Championship with a win at Mazda Raceway Laguna Seca in the No. 60 AERO-painted Ligier JS P2 powered by Honda.
The team displayed a brilliant effort throughout the race, combining strategy, stellar pit work, and smart driving from both John Pew and Oswaldo Negri, Jr. The 30-second win over the No. 90 Corvette DP marks the fifth P1 finish for MSR, and the 33rd podium.
The flawless driving by both Pew and Negri helped secure a well-deserved victory for the team.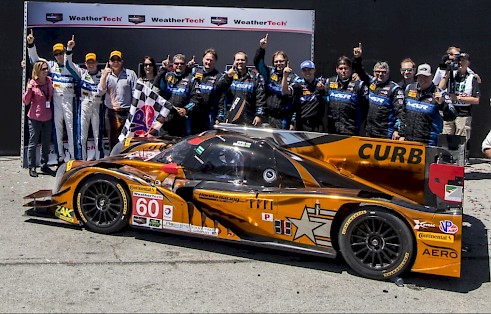 "I just tried to stay focused, do the laps, manage traffic, and give Ozz the car in a good place and in one piece," Pew remarked. His consistent driving combined with excellent pit work provided Negri with a convincing setup for a podium finish.
"I pushed as hard as I could from the beginning to end," Negri stated from Victory Lane. "My team is the best, the car was just hooked up from the beginning."
The team now heads victorious into their next milestone race, the 24 Hours of Le Mans at the historic Circuit de la Sarthe in France."Even though they're two different worlds, it's a great point to have going into our next race, which is Le Mans," stated team owner Mike Shank. "Confidence is everything in this business."
MSR will be testing their Le Mans Prototype setup with an AERO™ Advanced Paint Technology livery at the legendary Monza circuit on May 22 and 23 before heading to France for the 2016 24 Hours of Le Mans on June 18. 
Pictures courtesy of MSR/Sunday Management Group