01/01/2016
Michael Shank Racing continue to trust AERO™ Advanced Paint Technology for 2016 WeatherTech SportsCar Championship Series Season
PATASKALA, Ohio (January 1, 2016) – AERO™ Advanced Paint Technology and Michael Shank Racing have been partners since 2013, through the Daytona Prototype years and now into the Ligier JS P2. AERO™ film based paint appliques gives the team a competitive edge in durability, weight savings, aerodynamics, and aesthetics. The AERO team is excited to continue the partnership into 2016 as Michael Shank Racing hits another milestone: The 24 Hours of Le Mans.
As a team partner, AERO™ Advanced Paint Technology has helped Michael Shank Racing race beautiful looking cars for the spectators and fans at home. That great aesthetic also provides a platform for sponsors to showcase their brands for greater exposure. While other coating materials add extra weight and lack any meaningful durability, AERO™ Advanced Paint Technology offers MSR the whole package, with the added benefit of being an environmentally sustainable, zero carbon emission paint system.
Furthermore, the film is both easy to apply, strip, and replace, as highlighted here.
The partnership with Michael Shank Racing helped fuel growth for AERO™ Advanced Paint Technology—a division of the international, advanced materials company, entrotech—which has established an international customer base across multiple industries. MSR was an early adopter of the film-based paint applique, and has utilized its value in endurance racing over the last three seasons.
"Our ongoing partnership with Michael Shank Racing highlights the quest for a meaningful competitive edge through truly disruptive innovation," said entrotech CEO Jim McGuire last year. This year, he echoed his remarks on innovation: "MSR allows us to field new innovations within the AERO product set. These have included embedded electronics, specialized vehicle tracking technologies, and heat reflecting windscreen technology." This year, the AERO™ Advanced Paint Technology team is excited to continue fielding new innovations with MSR on the international stage.
"We're looking forward to having a new driver in Olivier Pla for our four endurances races and of course we're very excited about going to the 24 Hours of Le Mans in France and having Laurens Vanthoor join Ozz (Negri) and John (Pew) in the car for that race," stated team owner, Mike Shank. "Last year, we had a new car and now we have a full year under our belts with it. I have higher expectations this year, but I'm trying to manage it. The expectations are that we should be able to finish in the top three in many more races. The car's better, the engine's better, everything is a step up compared to last year." And just like the last three seasons, Mike is trusting AERO™ Advanced Paint Technology to continue with that optimism.
This year, Oswaldo Negri, Jr. and John Pew return to Michael Shank Racing for the full 2016 season.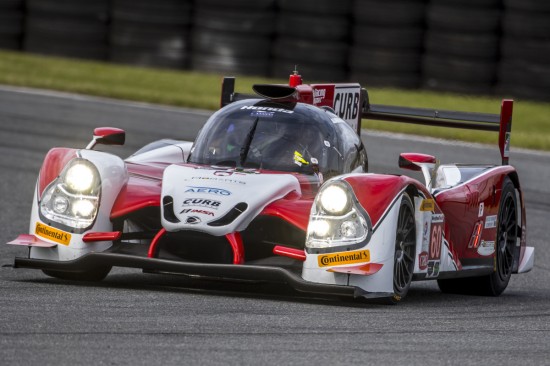 "We've used AERO as a tool to show what it is capable of," driver Ozz Negri stated at the Roar Before the 24. "This weekend we came with the calmest scheme we've ever had because we have a sponsor announcement coming soon and we'll have a different scheme for the Rolex 24." AERO's is easy to strip and easy to apply, so quick livery swap-outs are made effortless by the robust but tractable proprietary adhesive. "We still have the quality AERO product on the car and at the end of the day whether it's shiny chrome or regular standard red, it's strong and light and those are the key components."
"I think having AERO Advanced Paint Technology do our colors for our car is really fantastic because we can change it often and it's easy to do. We can do really unique designs and we've had some really cool design," stated driver John Pew. "Fans have their favorites and people talk about it. It's aerodynamic, it's easy to fix, and it's easy to change. It's a much better option for us," John continued. AERO has all the best performance attributes to give drivers a competitive edge, especially in endurance races like the 24 at Daytona and the 24 Hours of Le Mans.
MSR was quickest in four of seven sessions at the Roar, with new team driver Olivier Pla setting the fastest laps on Friday and Saturday, and Ozz Negri setting second fastest overall at 1:39.438.
The regular driver lineup will be accompanied by AJ Allmendinger and Olivier Pla for the Rolex 24 at Daytona. Laurens Vanthoor will be joining the team for the 24 Hours of Le Mans. You can follow all the WeatherTech SportsCar Championship action at www.imsa.com.
Images courtesy of Michael Shank Racing/Brian Cleary