12/07/2015
CLP Motorsports scores debut win at the 25 Hours of Thunderhill with AERO™ Advanced Paint Technology
WILLOWS, California (December 7, 2015) - Endurance racing challenges racing teams by forcing an additional element into the racing mix: durability. The seminary race on the motorsports calendar, the 24 Hours of Le Mans, is one of the oldest and most lauded races in the world. However, the 25 Hours of Thunderhill demands an additional hour of physical and mechanical stamina. This year, the 2015 National Auto Sport Association US Air Force 25 Hours of Thunderhill presented by Hawk Performance was fraught with wet El Niño conditions in Willows, CA over the December 5 weekend.
Finishing such a race is quite a feat. Placing first is a hallmark accomplishment. Finishing, in first, in a debut race is something else entirely. CLP Motorsports fielded their Élan NP01 prototype car, which, as racing driver Tyler McQuarrie points out, three weeks prior had never seen tarmac. The class-wining No. 6 NP01 finished 32nd overall, completing (read: enduring) 514 laps.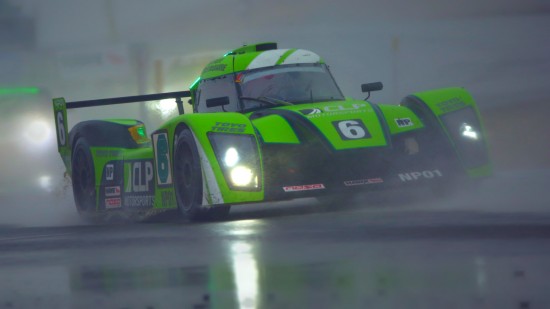 AERO™ Advanced Paint Technology was designed for aerospace applications, combining the highest durability attributes in the lightest possible form with the greatest aesthetic appeal. The durability engineered down to the molecule in AERO™ film-based paint appliques allows for the highest level protection from stone impingement, abrasion, and environmental effects. From a safety standpoint, AERO™ Advanced Paint Technology can contain carbon fiber fragments after a collision. Furthermore, the self-healing top coat can be cleaned with nearly any product.
What does that mean for motorsports? As CLP Motorsports can attest, enduring 25 hours requires every competitive advantage one can muster. That is why they turned to AERO™ Advanced Paint Technology for their livery. "I was truly amazed with AERO paint," stated team team owner Pat O'Keefe. "This is the first race car we have been able to use AERO paint on, and what a tough test! The car looked amazing before the race, and even after over 25 hours of racing in the rain and cold, it still looks perfect." With the help of designer Andy Blackmore, the livery designed around the world's only ultra-durable film-based paint system was applied with the specific intent of protecting the car while looking great for the fans.
The result: a vibrant green AERO™ Advanced Paint Technology livery that lasted the full 25-hour race, and can still continue through the 2016 season. In a race known to beat up cars, that's quite an accomplishment. Mr. O'Keefe stated after the race weekend: "Everyone told us that our car was one of the best looking cars out there and that is because of AERO. Not only is it the best looking option, but it's the toughest and lightest as well. I'm putting it on all my cars from now on." Congratulations to the team and drivers Tom Dyer, Tyler McQuarrie, and Marc Miller on a well-fought maiden voyage, and an outstanding in-class win!
About CLP Motorsports
 CLP Motorsports is a premier, full-service performance facility in Northern California. The team specializes in road racing, track attack, drifting, autocross, and high- performance street cars. CLP offers customers a wide array of services including performance maintenance, product installation, fabrication, full-service builds, race car setup, product development, part sales, driver coaching, arrive and drive services, and more. Learn more at http://clpmotorsports.com
About AERO™ Advanced Paint Technology
AERO™ Advanced Paint Technology is a division of entrotech, inc. that designs, manufactures, and sells a series of patented, film-based paint appliques to the aerospace, automotive, and commercial trucking industries. Established in 1999, entrotech is a chemical technology business that designs, develops, and commercializes innovative materials used in many of the world's most advanced products. The company's focus is on life sciences, data storage, display enhancement and protection, green paint applique films, and premium carbon fiber products. With executive offices and laboratories in San Francisco, the company has manufacturing and development facilities in Columbus, Ohio. For more information, visit: www.entrotech.com