04/15/2018
A Win for AERO in Long Beach with Corvette Racing
Corvette Racing score back-to-back win with Gavin and Milner at Long Beach
Rahal Letterman Lanigan Racing score top five finishes in IMSA and IndyCar
P1 for the C360 Racing McLaren 570S of Paul Holton in the PWC Invitational
Top five finish for United Autosports in ELMS LMP3 category
LONG BEACH, California (April 15, 2018) – The duo of Oliver Gavin and Tommy Milner brought their yellow and black AERO-painted No. 4 Chevrolet Corvette C7.R first to the finish line on the streets of Long Beach for Corvette Racing's second victory in a row at the Bubba Burger Sports Car Grand Prix of Long Beach. A back-to-back win for Gavin and Milner, and a well-fought race despite a difficult starting position. On-track opportunities and well executed pit stops helped push the team to their GTLM-class victory.
Antonio Garcia and Jan Magnussen, also piloting an AERO-painted Corvette Racing C7.R, drove brilliantly to overcome a mechanical issue with 52 minutes in the race. From their second-place position, in what ended up being a comeback drive for Garcia. A mechanical issue dropped him from second to eighth on a restart with 52 minutes left. Despite an apparent gearbox issue, Garcia sped to fourth in just 36 minutes, and finished less than 2 seconds from a podium.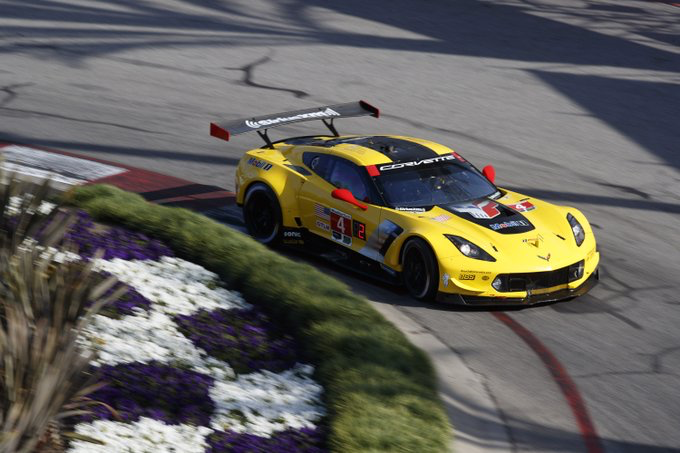 OLIVER GAVIN, NO. 4 MOBIL 1/SiriusXM CHEVROLET CORVETTE C7.R – GTLM RACE-WINNER: "Amazing the way that all came around. Yes, we had a little bit of luck, but Tommy had to drive brilliantly at the end there and stay out of trouble. There were a number of incidents there. Man, we could have gotten taken out. We could have gotten in the wall. Tommy just navigated. We had a great pit stop. The guys did an amazing job at the stop. We jumped a number of people and put us in position there we we could challenge for that victory. And we got it! That is our first win in season No. 20 for Corvette Racing. And it is my 50th victory with the team. That is pretty amazing. I am just thrilled."
TOMMY MILNER, NO. 4 MOBIL 1/SiriusXM CHEVROLET CORVETTE C7.R – GTLM RACE-WINNER: "There is something about Long Beach. Something about having magic here. I don't know what it is. We had it today. We had it last year. Whatever it is, I want to keep it. Really tough race today. The track was really, really tough with the marbles off-line. Super difficult. I almost threw it away on the last corner, last lap. Really, really tough conditions. But, Corvette was great. Michelins were great. They were super strong right to the end. Just had that little bit of magic, little bit of luck and that's all we needed today!"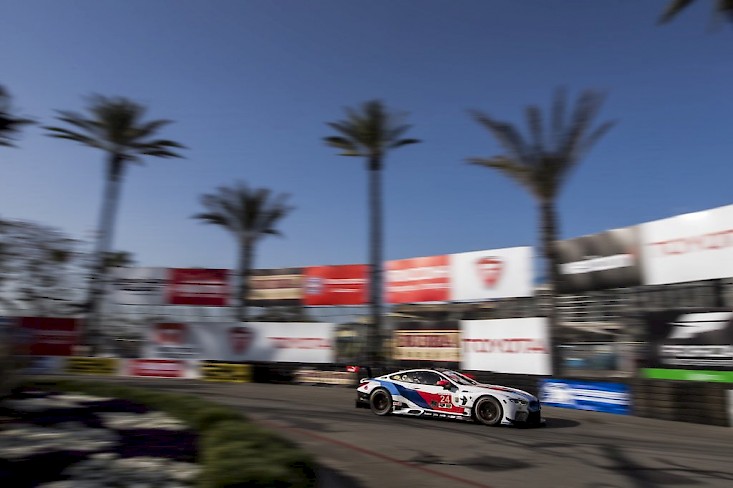 Rounding out the top five in the GTLM class was the AERO-painted No. 24 BMW M8 GTE of BMW Team RLL. "A fifth place almost feels like a win," said Bobby Rahal, Team Principal. "Our strategy worked out well initially, pitting early and getting one of the cars into the lead after the yellow. It was obvious that it would be very difficult for us to stay in the lead however. I am disappointed for the team as everyone has worked very hard and to not have the pace is very tough. Long Beach is a handling track, but we still needed some more grunt. We will keep working hard and hope we will get back to the pace we had at Sebring."
Rahal Letterman Lanigan's IndyCar program also sports a top five position. Graham Rahal managed to overcome a drive-through penalty for contact with Simon Pagenaud in the opening lap to achieve a P5 finish. "I think we had a car that could have had a shot at Rossi today," Rahal remarked. "We made some changes for the race and the Total car was fantastic. I'm really disappointed in myself and disappointed in the way that it all began but I'm proud of the Total team for the way that it finished. We made a lot of passes today.  I passed more cars here today that I have passed in a long time.  We had a lot of fun but we want to win." Rahal sits in third overall in championship points for the season.
In the Pirelli World Challenge invitational, Paul Holton drove his Fluorescent Orange AERO-adorned McLaren 570S GT4 to a P1 finish. Holton managed to defend his P1 position over the course of the race from the SIN Racing R1 of Harry Gottsacker. Holton took to Twitter following the race to thank his fans and show his anticipation for the next race.
On the other side of the Atlantic, United Autosports put forth a multi-car effort in both the LMP2 and LMP3 categories at Le Castellet. However, a tough weekend saw the sole UK-based AERO distributor for motorsports secure only on top five position. The driving duo of John Falb and Sean Rayhall in the No. 2 Ligier JS P3 look ahead to Monza to improve on the pace and setup of the car.
This weekend saw lots of AERO motorsports action across the globe via multiple racing series and classes. The AERO racing season is now in full force!