01/01/2016
Championship-winning Scuderia Corsa Ferrari add AERO™ Advanced Paint Technology as a Technical Partner in 2016
LOS ANGELES, California (January 1, 2016) – For the IMSA championship-winning team Scuderia Corsa, speed is coupled with pointed strategy and technological sophistication. When the team principals were first introduced to the world's only super-light, ultra-durable paint applique, they were markedly intrigued. Something that reduces weight, enhances durability, and captures the marque's historic Rosso Corsa with the same vibrancy intended by legend Enzo Ferrari? Here, AERO™ Advanced Paint Technology exceeds all expectations.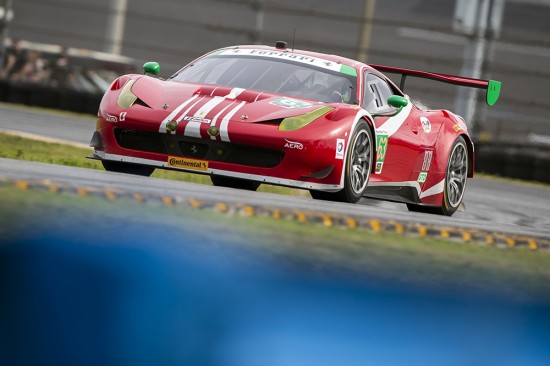 Scuderia Corsa first ran AERO™ film-based paint on the team's No. 64 Ferrari 458 GTD in the 2015 Petit Le Mans in Braselton, GA. The super-wet conditions and nail-biting intensity of the 10-hour, 1,000-mile endurance race required a highly durable coating system that would protect the car from scrapes and scratches, yet not sap any of the much needed performance. The car performed admirably, finishing 6th in the GTD class.
After the successful running of AERO paint in the Petit Le Mans, Jim McGuire, CEO of AERO™ Advanced Paint Technology parent company entrotech, met with Giacomo Mattioli and Roberto Amorosi about an expanded technical partnership for 2016. Mr. McGuire stated "teaming with Scuderia Corsa and being part of such rich racing heritage is a natural fit for AERO." He continued, "Our paint will save them nearly 50 percent in weight over traditional paint, which will help reduce lap times while greatly enhancing durability and appearance."
The team will compete in the GTLM and continue in the GTD classes in 2016; the latter of which they were champions in 2015.
"We are thrilled to begin our partnership with AERO Advanced Paint Technology" said Giacomo Mattioli, owner of Scuderia Corsa. "The passion that the team at AERO has for their products is clear to see, and we are proud to start a new chapter in Ferrari racing history with our liveries featuring AERO technological enhanced paints in 2016 and for a long time to come. We look forward to many successes together at the track."
As technical partners for 2016, AERO™ Advance Paint Technology will enhance the technology portfolio utilized by Scuderia Corsa, thereby offering them a competitive advantage in both weight savings and durability. The advanced paint system also affords the team's sponsors a better platform for branding and messaging through enhanced aesthetics, while still maintaining Ferrari heritage.
The AERO™ Advanced Paint Technology team is happy to be partnered with Scuderia Corsa for the 2016 season.
All images courtesy of Bob Chapman, Autosport Image.
About Scuderia Corsa
2015 24Hours of Le Mans Podium, 2015 IMSA GTD and 2013 Grand-AM Rolex GT championship-winning team Scuderia Corsa was founded in 2013 by Giacomo Mattioli and Art Zafiropoulo.  Giacomo Mattioli is the owner of Ferrari Beverly Hills, Los Angeles and South Bay and partner in Ferrari Maserati Silicon Valley with Art Zafiropoulo. 
Follow Scuderia Corsa on Twitter @Scuderia_Corsa, on Facebook at Scuderia Corsa, Instagram at #Scuderiacorsaferrari and ScuderiaCorsa.com
About AERO™ Advanced Paint Technology
AERO™ Advanced Paint Technology is a division of entrotech, inc. that designs, manufactures, and sells a series of patented, film-based paint appliques to the aerospace, automotive, and commercial trucking industries. Established in 1999, entrotech is a chemical technology business that designs, develops, and commercializes innovative materials used in many of the world's most advanced products. The company's focus is on life sciences, data storage, display enhancement and protection, green paint applique films, and premium carbon fiber products. With executive offices and laboratories in San Francisco, the company has manufacturing and development facilities in Columbus, Ohio. For more information, visit: www.entrotech.com